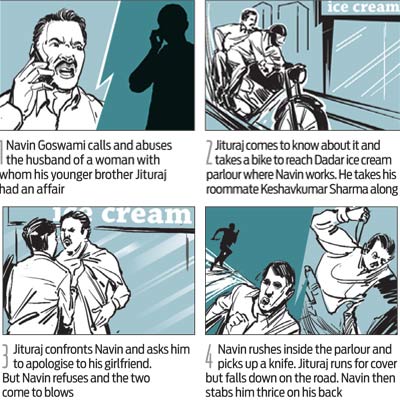 A 20-year-old youth was stabbed to death by his elder brother following a brawl between them at Dadar over a married woman, with whom the victim had an affair.
According to the police, Navin Goswami, 21, stabbed his brother Jituraj, 20, thrice on his back with a knife after an argument between them turned violent on Ranade Road in Dadar at 10.30pm on Thursday night.
Jituraj succumbed to his injuries following which Navin was arrested, said the police.
The police said Jituraj was having an affair with a married woman from Uttar Pradesh for the past one year. Jituraj's elder brother Navin, who is a manager with an ice-cream parlour in Dadar (West), was against his relationship with the married woman.
"Fed up with his brother's affair, Navin called the woman's husband on Wednesday and asked him to talk to his wife over the affair and abused him," said Parshuram Kakad, senior police inspector of Shivaji Park police station.
Jituraj, who works in a private company in Bandra, became furious when he learnt about it. He took a bike from Bandra and asked his roommate Keshavkumar Sharma, 19, to accompany him.
"Jituraj told me that Naveen had abused his girlfriend," said Sharma in his statement to the police. The duo reached the ice-cream parlour in Dadar around 10.15pm on Thursday, said the police.
"Navin was sitting outside the ice-cream parlour. Jituraj asked him why did he abuse his girlfriend and demanded an apology. When Navin refused, the two then came to blows," said Kakad.
As crowd gathered around the shop, the owner of the parlour asked the duo not to fight inside his shop. Jituraj again rained blows following which in a fit of rage Navin went to his shop and took a sharp-edged knife and stabbed him.
"Jituraj started running when he saw Navin with a knife in his hand. I tried to stop Navin who was chasing Jituraj, but he pushed me aside. Jituraj fell on the road and Navin stabbed him thrice in his back and abdomen," said Sharma in his statement.
A profusely bleeding Jituraj was taken to a nearby private hospital where he succumbed to his injuries. "Navin reached the hospital after some time. We were also informed about the incident following which we reached the hospital and saw Navin sitting. We took him to custody," said Kakad, adding that Navin was remanded in police custody till February 20 by a local court on Friday.