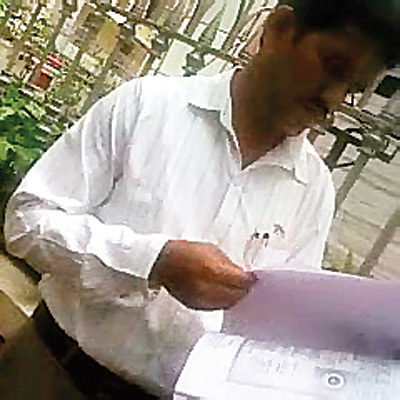 The Property Cell of crime branch has arrested a 28-year-old cheat who allegedly duped a student to the tune of Rs3.50 lakh by promising him the post of talathi. The suspect, identified as Rahul Gaade, is alleged to have duped several job aspirants to the tune of crores of rupees, the police said.
Interestingly, Gaade used to come to Mantralaya in an amber beacon car claiming to be a senior official in the revenue department. Gaade is a native of Baramati in Pune.
According to joint commissioner of police, crime, Sadanand Date, the victim, a native of Ahmednagar, has been studying in Pune University and preparing for competitive exams.
He wanted a government job and had told his friend to help him get one. His friend had then told him that he knows a revenue officer (Gaade) in Mantralaya and asked him to contact the officer. When the victim called Gaade, the latter asked him to come at the Mantralaya gate on August 12, said senior inspector Nandkumar Gopale.
"Gaade assured the victim that he would get him the job of a talathi in Ahmednagar for Rs4 lakh. On August 16, the victim and his friend gave Rs3.50 lakh to Gaade near Mantralaya. That time, Gaade had arrived in an amber beacon car. He took the money from the victim and said he would hand it over to senior officials and return soon," said inspector Nitin Patil.
After a few hours, when Gaade did not return, the victim called him on his mobile phone, but it was switched off. "When the victim made inquiries in Mantralaya about Gaade, he was told that no one by that name worked there. Knowing that he has been duped, the victim then lodged a cheating case against Gaade with the Marine Drive police," said inspector Dilip Phulpagare.
On receipt of specific information, Gaade was nabbed from the Postal Colony area in Chembur on Friday. "During questioning, he admitted to having duped several youths in search of jobs from Baramati, Jalgaon, Beed and Ahmednagar to the tune of crores of rupees. He used to tell the victims that he worked as personal assistant of political leaders," said assistant inspector Laxmikant Salunkhe.