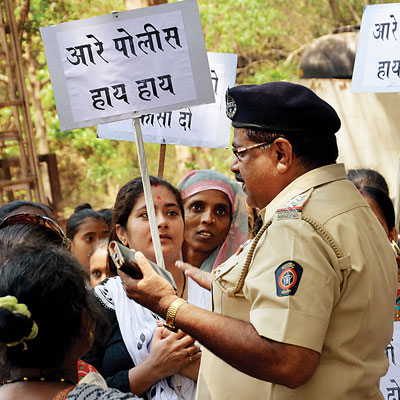 The prime accused in the Aarey Colony gang-rape case, 26-year-old Velapandi Marianna Harijan, was also allegedly involved in the murder of a 28-year-old driver, Ritesh Singh, a Thane resident, in Mira Road last February, investigations have revealed. When the driver's wife, who was pregnant, learned about her husband's death, she committed suicide by hanging herself, police sources said.
Harijan and his accomplice, Jaisraj Thangappa Pallam, were arrested on Thursday by officers of Unit X of the crime branch, including Gopika Jahangirdar, Ravindra Ranshivra and Sachin Khanvilkar. The accused were then handed over to Aarey sub-police station.
"Last February, Harijan and his associates, Umesh Harijan and Mangesh Harijan, threatened an Indica car driver in Aarey Colony area demanding money. Since the driver did not have money, they forcibly entered the car, killed him and dumped the body in Mira Road area. A case of stolen vehicle was filed in this regard at Aarey sub-police station," said a crime branch source.
Once the body was discovered, Kashimira Police registered a case, and after it was identified, the driver's family was alerted. "A couple of days later, the driver's wife committed suicide. Umesh and Mangesh have been handed over to the Kashimira Police for further investigation into the driver's murder. Harijan has been handed over to the Aarey Police. Once investigations in the rape case are over, Kashimira Police will seek his custody to probe further into his involvement in the driver's murder," said the officer.
The group was also allegedly involved in the attack of another taxi driver in February. "The taxi was coming from Marine Lines to Aarey Colony area when the group accosted the driver and assaulted him brutally for money. The Aarey sub-police have registered a case under IPC section 397 (robbery or dacoity with attempt to cause death or grievous hurt)," the officer said.