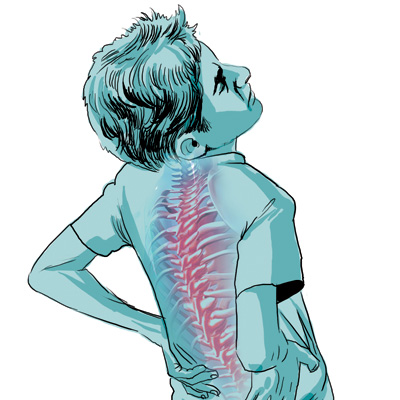 Back pain is one of the most common ailments affecting youngsters. Till the other day physiotherapists had been attributing the reason for it to the heavy schoolbags that children carry. However, physiotherapists in the city now say back pain occurs also because of the kind of clothes kids wear—low waist jeans or wrong size alter neck tops, etc—that give them that slouching posture.
Who generally experience back pain?
Most people experience back pain at some point of time during their teenage years. For some, the pain aggravates and they carry it into adulthood.
What are the common reasons for it?
Poor posture and faulty body alignment (70%); trauma, congenital defects and pathological reasons (30%) are the major causes of back pain. Lack of exercise (children don't take to sports, games these days) too contributes immensely.
According to physiotherapists, the heavy school bags children are forced to carry to school everyday, the kind of clothes children now wear—low waist jeans and alter neck tops, etc that lead to the slouching posture—are also contributing factors.
Doctorspeak
Good posture ensures that all your bones and joints are aligned properly. It also enables muscles to work in balance so that there is no excessive strain or early fatigue on them. Children between 10 to 18 complain a lot about back or shoulder pain. One of the reasons is the heavy school bags that they carry leading to back and shoulder pains. Teens who go to colleges are found wearing low waist jeans and wrong size alter neck top that give them that slouching posture. Wrong clothing also leads to back and shoulder pain. – Dr Anjana Laungani, consultant physiotherapist & rehab specialist.
It's true people tend to slouch or slump when they wear low waist jeans or clothing that is uncomfortable. More often than not kids who complain of back/shoulder pain are found wearing such clothes. Children these days are also not found playing outdoor games; they are happy relaxing at home with their electronic gadgets. This also leads to back and shoulder pain as they sit for long durations in wrong positions. – Dr Anuja Gawde, physiotherapist, New Horizons Child Development Centre.
Tips from physiotherapists
1. Teach children good physical habits from an early age to reduce risk of injuries and pain.
2. Encourage teens to eat well and do plenty of exercise or take to some outdoor game or the other.
3. Allow them to watch TV/play video games only for a limited time a day/week.
4. Do not keep resting on arm-rests while working as constant use puts pressure on nerves in your elbow. Use arm-rests only during breaks while typing or browsing.
5. Exercise has a range of benefits for people of all ages. There are specific exercises—spine twist, push-ups and proprioceptive exercises—that are very good for correcting posture of teens that help improve body balance.