BJP president says PM choice was unanimous, calls Advani 'mentor and guide'.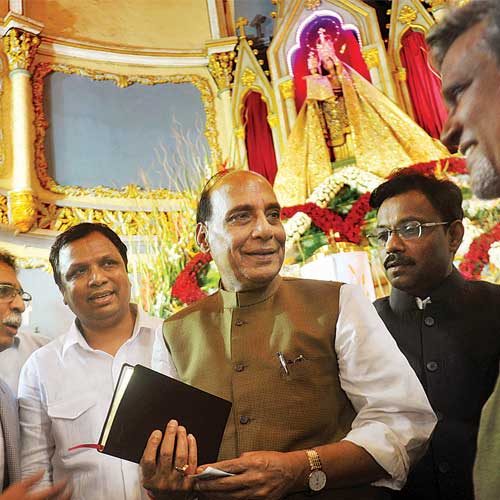 Trying to downplay the apparent resistance by Bharatiya Janata Party patriarch LK Advani to the nomination of Gujarat chief minister Narendra Modi as the party's prime ministerial candidate, party president Rajnath Singh has said that there was unanimity in the party on the decision.
Singh told journalists at a news conference in Mumbai on Saturday, that Advani had never said he was opposed to Modi being the nominee for the top post. "All have said this (Modi's nomination) must happen," Singh said. "He (Advani) was active, is active and will be active," Singh said, and described Advani as a "guide and mentor" of the BJP. "He (Advani) has every right to be angry… I will listen to our guardian, our leader and improve things where we are falling short," he said.
Singh also mentioned that Modi had visited Advani at his New Delhi residence on Friday night, after the party's parliamentary board meeting, to "seek his blessings".
On the subject of drawing partners to the National Democratic Alliance (NDA) and whether the BJP would talk to Raj Thackeray's Maharashtra Navnirman Sena (MNS), Singh said that the the party would consider this after taking old allies into confidence. Raj, who toured Gujarat a few years ago, is known to share an equation with Modi.
Singh was, however, non-committal about whether Modi would stay as Gujarat chief minister till the general elections and if he would contest the Lok Sabha elections from Uttar Pradesh. "…anything can happen. We will sit together and discuss. There is no constitutional bar on contesting the elections when one is the chief minister," he said.
Earlier in the day, Rajnath attended the inauguration of the Bombay Bullion Association's office at Zaveri Bazaar. Singh visited the Lalbaugcha Raja Ganesh mandal in Parel and Mount Mary's Church in Bandra. He was a guest at the Sant Dnyaneshwar award function in Bandra in the evening.