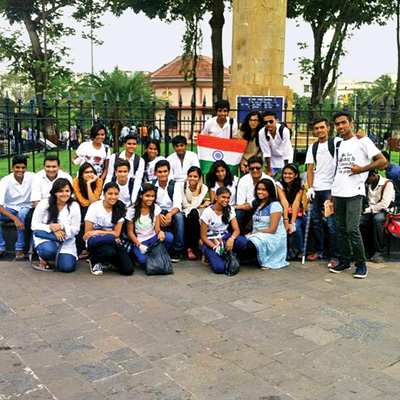 Like last year, students from rotary club of Lala Lajpat Rai college organised an awareness campaign 'Respect the Tricolour'. They created awareness among people to not throw small flags on the streets after celebration and also went to pick up the flags lying discarded. They found around 200 flags this year, a number less as compared with last year's XXX.
The students said for most Indians Independence Day is limited to attending flag-hoisting ceremonies in their school, college, society or government offices, for which they buy small flags from street vendors. People, however, forget about them after the celebration and discard them.
On Friday, around 32 students went on streets to create awareness among people and appealed to them to respect the Tricolour. They also went all the way from Mahalaxmi to Gateway of India picking up flags lying on roads. They conducted street plays on the issue as well. The students said they won't hand over these flags to the BMC as civic officials will bury them as per the rule.
Shiwangi Shivhare, FYBCom student, rotractor of Lala Lajpat Rai College and chairperson of the campaign, said, "Last year, I was a member and participated in picking up the flags thrown by citizens on the street after celebration. But this year, the number of flags we found was less. This gives us the hope that our last year's campaign worked."
"I felt really proud being part of this project, but also sad to see people not bothered about picking up discarded flags. I believe it was important to create awareness among people, especially children, that flag should be respected not just during celebration but also after it," said another rotractor Tejasvi Khot, SYBMM.