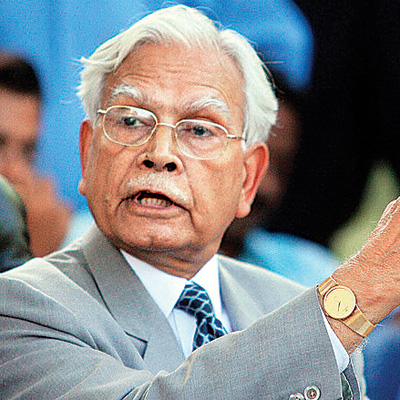 The forthcoming book by former external affairs minister K Natwar Singh who was an acolyte of the Gandhi family for more than three decades is likely to embarrass Sonia Gandhi, just like the recent book by Sanjaya Baru, former media advisor to Manmohan Singh, did.
Sonia Gandhi and Priyanka Gandhi had visited Natwar Singh's house in May this year, in an effort to convince him not to go ahead with One Life is not Enough to be published by Rupa. It is quite likely that he has watered down some bits but going by Natwar Singh's past books, he is going to keep the crucial details.
According to reports, Natwar Singh reveals in the book that it was Rahul Gandhi who prevented his mother from taking up the post of prime minister in 2004 due to his fear that she also might be assassinated like his father. Sonia Gandhi later wanted to make Shankar Dayal Sharma the PM, but he declined the offer due to ill health before the choice fell on Manmohan Singh.
Natwar Singh also told Karan Thapar in an interview that Sonia Gandhi being an historical personality is not entitled to privacy, suggesting that he may be revealing some embarrassing details.
Going by his previous books, especially My China Diary (July 2009) Natwar Singh will not fight shy of revealing various secrets of state. In China Diary he revealed that Rajiv Gandhi had told him that it was former health minister B Sankaranand who helped him slip out of difficult situations in the Bofors case. Rajiv Gandhi told him this after Natwar objected to Sankaranand being a member of the delegation to China.
In a long winding chat with this correspondent prior to the release of My China Diary in 2009, Natwar Singh made it clear that he was very bitter with Sonia Gandhi for having ditched him after the Iraq Oil for Food programme scandal surfaced. Natwar Singh and his son Jagat Singh were accused and later indicted by the RS Pastha inquiry committee for making personal gains using his closeness to Saddam Hussein in the Oil for Food coupon scheme floated by Iraq.
Natwar Singh could not believe that Sonia Gandhi accepted his resignation for he fully believed that Sonia had full trust in him. "She used to come to me very often. She has sat in that very chair and cried in front of me," he told this correspondent. Natwar also believes that it was AK Antony who turned Sonia Gandhi against him by convincing her that he was guilty in the Iraq scandal. It was Natwar Singh's belief that Antony used his position as disciplinary committee chief of the Congress to get rid of many leaders of the party.
Sources reveal that Sonia Gandhi hoped that Manmohan Singh would rebut some of the revelations in Sanjaya Baru's book, but Singh did nothing of that sort. This pertained to Baru's revelation that Manmohan Singh was downgraded in favour of Rahul during the closing stages of UPA II.