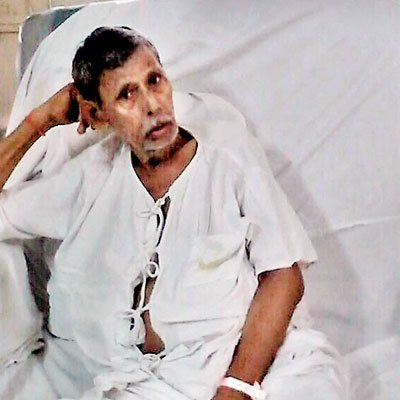 It will take at least two weeks before the Azad Maidan police can take the 42-year-old HIV positive patient suffering from TB of the brain in their custody, said doctors treating him at JJ hospital.
In an unprovoked attack around 6.30am on Monday, the patient, who was admitted in Bombay Hospital's general ward, started hitting Lilabihari Govardhan Thakur, 65, who was sleeping on the adjacent bed, with a saline rod till he started bleeding, ultimately leading to his death. He also injured two other patients — Praful Parmar, 70, and Janardhan Arte, 66 — and a ward boy. He was later shifted to JJ hospital under the supervision of a psychiatrist.
Preliminary investigation by doctors at JJ hospital showed that he showed signs of schizophrenia during his stay at Bombay Hospital which the doctors there ignored despite the patient's wife pointing the same out.
"The patient is a known schizophrenic and had stopped taking his anti-psychotic medicines. While reviewing him this morning, his wife said he showed schizophrenia signs — irritability, muttering to himself, getting excited, not sleeping, hallucinating, etc. She claims that she had pointed this out to the treating doctors there but no one paid attention," said a doctor from the JJ hospital psychiatry department.
According to the department doctors, Bombay Hospital doctors should have started the anti-psychotic medicines and shouldn't have ignored the symptoms. "We have started him on the medicines and he is calm now. But still we have tied him up to restrain his movements. He is kept in an isolated room. His wife and two children are also present in the hospital," said the doctor.
The doctors are avoiding talking about the Bombay Hospital incident. "It is too early to talk to him about the crime he has committed. Our priority is to give him medical attention. He is giving relevant answers to the questions asked to him," added the doctor.
Bombay Hospital has, meanwhile, asked Dr Nirmal Surya, the neurologist who was treating the patient, to submit a report on the patient's medical history. Dr Sagar Sakle, Bombay Hospital spokesperson, said:
"The hospital policy says that we can't admit mental illness patients in general ward. Only the treating doctor will know about the patient's medical history. Yesterday itself, the management had asked the doctor for his medical history. Management will review the incident to ensure such mistakes are not repeated in future."