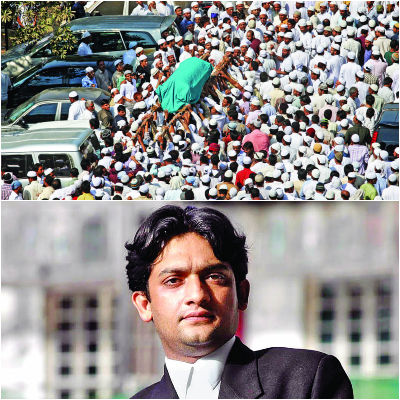 Khalid Azmi, the brother of slain advocate Shahid Azmi who was known for defending those wrongly accused of terrorism, has disowned the Jamiat Ulama-i-Hind (JUH) for its "callous" approach in Shahid's murder case.
Shahid, who was shot dead outside his office in Kurla in February 2010, took up cases on behalf of the Jamiat, but for some months now it has been criticised for using these cases to gain popularity.
Now, Khalid says that JUH has dismissed his repeated requests to appoint a watching advocate to assist the special prosecutor in his brother's case as "fizool kharchi" (a waste of money).
Four years after Shahid's murder, the trial in the case has yet to begin. The case is scheduled to come up on Wednesday. Two of the five accused are out on bail.
"Shahid was the main force behind shaping JUH into a set-up that took up the cause of those implicated in terror cases. He was killed for his courage in challenging the establishment that was openly engaging in a witch-hunt against Muslim youth," Khalid told dna.
He pointed out that Shahid had convinced JUH of the need for a centralized mechanism to fight terror cases in the courts and this brought fame and funds for the organisation. "But the same Jamiat now finds pursuing his case is fizool kharchi," says Khalid.
When contacted by dna, Gulzaar Azmi, general secretary of JUH's legal cell, said: "Shahid Azmi's assassination case is a police matter and in all murder cases it is the government which is the prosecutor. The pleader appointed by the government is fighting the case. I maintain that appointing a lawyer as watcher would have been unnecessary expense for the Ulama."
Gulzaar claimed the cases that were fought by Shahid were taken care of by new counsels appointed by JUH. "Recently, we secured the acquittal of six persons in the Akshardham case from the Supreme Court. Similarly, in another terror case, the death penalty given to two accused persons by a lower court in Kolkata has been converted into life sentence by the high court," he said.
Khalid himself is fighting cases of 50 of the 64 youths arrested for the 2012 Azad Maidan riot. "After leaving JUH I do not have any big TADA or POTA cases. But if anybody is need comes to me for legal help I do my bit to keep the spirit of my brother alive," he said, seated in the same Kurla office from where his brother operated.
Who was Shahid Azmi?
Shahid Azmi was a noted criminal lawyer and human rights activist known for defending those wrongly accused in cases of terrorism, among them some of those accused in the 2008 Mumbai attacks such as Faheem Ansari. Ansari was acquitted for lack of evidence.
After witnessing the 1992 Mumbai riots, at the age of 15, Shahid briefly joined an extremist group. Within a few months he deserted the group, returned home and completed his studies. He was soon picked up by the Delhi police's special cell on terror charges.
Shahid served five years in prison, but continued his studies. After completing the jail term, he studied law and went on to practice criminal law. In the seven years before he was assassinated, he managed to secure acquittal in 19 cases. He was said to be handling about 300 such cases.
Shahid had sought protection
In October 2006, three years and six months before he was killed, Shahid moved a city court seeking protection against persistent threats. His application was disposed of by the court as not maintainable. The judge stated, "To provide security or escort is not a matter of the jurisdiction and power of this court." The court also noted that Shahid had already lodged a complaint with the Kurla police station which was looking into the matter.