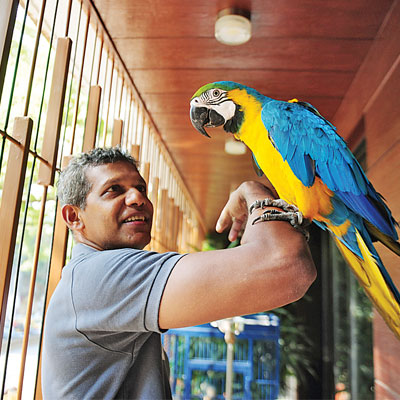 Bird lovers are going for DNA tests to determine the sex of their birds.
Pierre D'Souza wanted to know the sex of his bird, a Macaw. The 49-year-old Dadar resident has two Macaws and an African Grey Parrot at his home for the past several years.
Vets say at least two to three bird lovers aproach them in a month to know the sex of their exotic birds as it cannot be ascertained by visual inspection.
DNA testing on birds is currently available down South. Maharashtra has no such labs. It takes about a week for the labs to send the test results.
D'Souza approached vet Dr Yuvraj Kaginkar, who is an avian expert as well. "Birds lovers from across the country are approaching me to know the sex of their birds," the vet said. "The main reasons behind going for a DNA test to know the gender is one can accordingly name the birds and also find out why there is no reproduction when two birds are kept together in a cage."
"Owners of exotic birds like Macaws, African Grey Parrots and Cockatoos, whose gender cannot be determined just by looking at them, come to us," he said. "A DNA test can be done on 4-5 freshly plucked feathers or on a blood sample. These samples are couriered to a laboratory in south India. The cost of these tests ranges from Rs3,000-3,500."
Though D'Souza did not know the Macaw's gender, he named it Rio. "It is always good to know the sex of the birds we have at home. There are a lot of exotic birds in our building. My niece, Malaika, has been taking care of the African Grey Parrot; all our family members are bird lovers," he said.
"I have had people asking me why their birds keep fighting even after six to seven years. DNA tests show they are both of the same sex, which is why they fight," Kaginkar said.