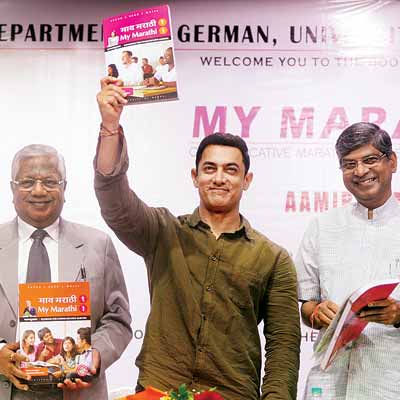 Adding pulp to the ongoing controversy surrounding the poster of his new film, PK, showing him standing semi-nude with a radio, Aamir Khan has requested his fans to wait for the release of the second poster of the film that is to be out on August 20. "In the second poster, I'm not even holding a radio," said Khan at an event in Mumbai University on Wednesday, building up more suspense.
Khan was at the Kalina campus to launch a book on communicative Marathi—My Marathi-level 1. The book along with a workbook and DVD, is written and produced by the German department of MU with the aim to help people worldwide learn the language.
Initially, for a few minutes Khan spoke in Marathi, but switched to English thereafter. "I get nervous when I speak in Marathi even though I learnt it from notable teacher, Sudhir Limaye." Limaye, one of the key people involved in the project, was also present on the occasion.
Khan later answered some questions from the audience. Questions that ranged from his upcoming film PK, to what language he uses at home. "When Azad is around, we switch to Marathi; we don't want him to know what we are talking about," said Khan laughing.
Politics of language
Pushplata Rajapure Tapas, HoD, Marathi department, was conspicuous by her absence at in the event. Apparently, professors in the department had not been consulted when organising the event. They were only provided the desktop publishing work. The book, however, does give credit to the dept. According to an MU official, Tapas has written a 'tell-all' letter to the vice-chancellor and other officials in this regard expressing her displeasure at attempts to undermine the department.