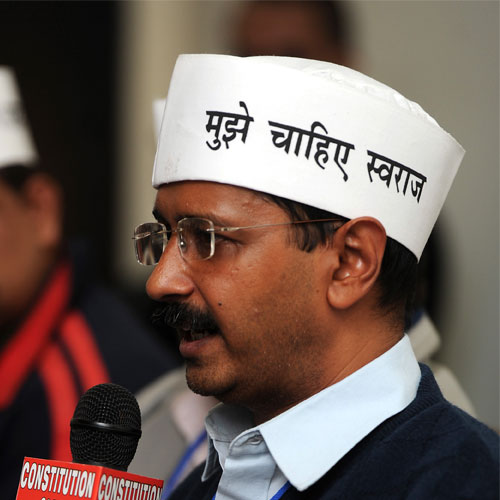 The marketing of a 13-month old movement and how it dismantled established political structures and ideologies
Marketing, branding and digital specialists from the national capital region attribute the success of Arvind Kejriwal and his Aam Aadmi Party (AAP) to a well-orchestrated media campaign. "For a party to come in from nowhere and secure around 30 per cent of the vote share in around one year is phenomenal," said Lloyd Mathias, senior marketer and director, GreenBean Ventures. "While the party employed digital media very effectively, a traditional symbol like the 'Gandhi topi' which stands for an old-world value like social change, worked very well for it," Mathias said.
Kejriwal's tryst with the social media started with the Anna Hazare movement. But, according to Rajesh Lalwani, founder and principal, Blogworks, while the party may have started out with social networks like Twitter and Facebook, the sentiment could be seen on the ground. "Clearly, Kejriwal would not have been able to achieve it without social media; but he truly energised the vote."
According to Lalwani, AAP's usage of social media is what it should be – volunteer-driven, and not bought or commissioned. "There were people visiting a rally, taking pictures and posting them."
Mathias concurs and believes that on the digital media front, Kejriwal & co have been streets ahead.
From the branding and positioning point of view, Prathap Suthan, managing partner, Bang in the Middle, a new-age ad agency, believes he saw the making of a classic brand in the party's campaign. "It gave the audience what it demanded. Public angst was the platform on which AAP was conceived, built and fostered. And now the party has been given a public thumbs up. The single-most characteristic that worked for it was honesty, along with humility and hope. If people wanted democratic retribution and to teach conniving politicians a lesson, this was the answer.
Even the symbol of the party worked for it. The broom symbolised the cleansing that people ached for."
What next for Kejriwal and AAP? Mathias doesn't dismiss the phenomenon as a "flash in the pan". "Accepting donations online and sending receipts instantly showcased their transparency and integrity".
"Personally, I feel that the results are stunning. This has been like a dream debut. Congress, I suspect, knew what was coming. They were pretty lacklustre and the muted public reception was definitely underlining Delhi's anti-incumbency echo. BJP certainly powered their way up, and I think they would be surprised too at the seats they gained in Delhi and the other states," Suthan said.
Both Suthan and Mathias believe that Kejriwal and his team were able to address the peoples' anger through their communication. "My gut tells me that there is a national plank of angst. And it has been something that has been gaining momentum. APP's Delhi showing is proof of that, and it will galvanise the rest of the country into looking at the party as a viable alternative. Their current stance is neatly poised for pan-India acceptance," said Suthan.
Mathias of the view that it was foolish for people and political parties not take the Kejriwal phenomenon seriously.
(By arrangement with MxMIndia.com)