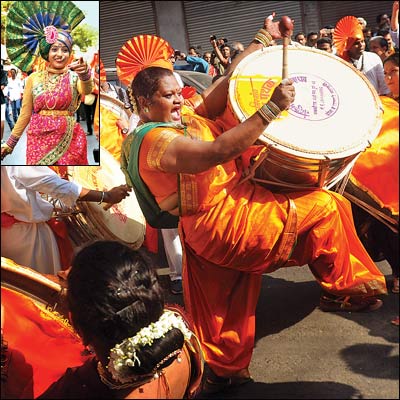 Thirty-one-year-old Sheetal Mandre was racing her two-wheeler at Girgaum on Monday morning. It is the day when she gets to enjoy the women camaraderie like no other day. All charged up, she was among the 30-odd women in their traditional nine-yard sarees, leading a procession. The occasion was Gudi Padwa, which was celebrated to mark the beginning of the New Year.
"Taking part in the rally is displaying the power of Adi Shakti – the mother goddess of all power and energy in Hindu mythology and women camaraderie," said Mandre waiting to move ahead in the procession.
Girgaum, a pocket dominated by Marathi-speaking population, displayed traditional Marathi regalia since Shivaji Maharaj's reign. People of different age groups with warrior dresses, Holkar Pagdi (head gear), Puneri Pagdi, nine yard saris, swords, simple saffron headgears all made Gudi Padwa colourful affair.
People made sure that they greeted each other and took as many pictures as they could. "We made all the delicacies in the morning to be here. It gives a good feel to be part of the big celebrations that go on," said 34-year-old Vaibhav Narvekar, who works with a production house.
Narvekar brought along with him a sword that is a part of marriages in some parts of Maharashtra. At home, the family treated itself with puran poli, shrikhand puri, basundi and dal bhat among other things.
While Maharashtrians celebrated Gudi Padwa, those hailing from Andhra Pradesh and Karnataka observed Ugadi. The celebrations were held by visiting temples and having a traditional oil bath in the morning. That was followed by having a mix of neem and jaggery that are symbolic of disappointments and happiness a person should accept in life.
The day also marked the beginning of Ram Navami celebrations in some south Indian temples. "The nine-day Sri Ramanavami festival and Vasantha Navarathri has begun at two temples in Matunga. The 70-year-old Shri Sankara Mattham began the ceremony with Maha Ganapathy Homam, Go pooja, and Rama moola mantra japam followed by Sri Vidya homam, Suvasini pooja and Srimadh Valmiki Ramayana Moola Parayanam," said K A Vishwanathan who participated in some of the rituals.
"Cheti Chand is actually on April 1 and not on March 31 as believed. On Cheti Chand day, we will be praying to Lord Jhulelal," said T Manwani Anand, a Sindhi.