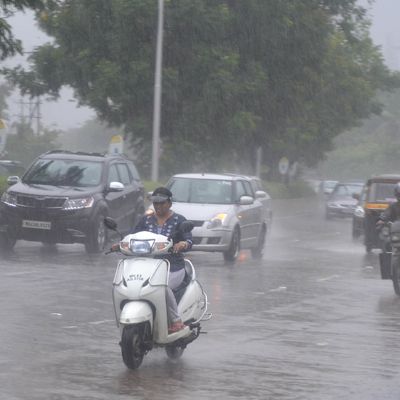 Heavy rains in the past three days have brought back smiles on the face of farmers in Nashik. The farming community was having nightmares as the earlier sowing had dried out due to a long dry spell. Farmers have now begun sowing for the second time.
Good rains in Nashik region also means good news for Mumbai as the city's maximum supply of vegetables and several agro products come from that region.
"This rainfall is very useful for crops as sowing has taken place. It is good for soybean as the plant is in a filling stage. It is also good for maize and vegetables. These showers will also help the sugarcane crop," said Pushkaraj Hingne, a farmer from Niphad.
Hingne said if the rains continue for another month, things will turn in their favour. "Even if it rains heavily for next 8-15 days, wells will start to fill. As of now, the situation is encouraging even though rains have got delayed by nearly two months," he said.
The rainfall recorded in Nashik district since it started raining in June is 180.2 mm, with Igatpuri tehsil receiving 606.9 mm, the highest, till July 29, 2014, followed by Trimbakeshwar at 429 mm. Nashik tehsil has received 151.9 mm of rainfall so far this year.
Till the morning of July 29, 2014, Nashik had received 34.6 mm of rains; Igatpuri 119.6 mm; Trimbakeshwar 77.5 mm; Peth 59.9 mm; Surgana 34.7 mm, Dindori 31.7 mm. The other tehsils in the district received moderate rainfall on the same day.
With incessant rains, dam situation in the district has also improved. Officials released 3000 cusecs of water from Darna dam on Tuesday.