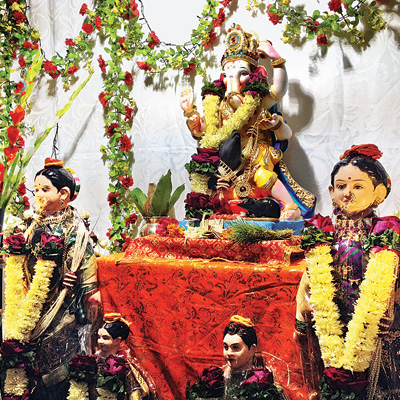 At the Dixit household in Thane, worshipping Gauri is not just about observing a festival but reminiscing and bonding with the families who have prayed at the feet of the goddess over nearly 90 years.
The sheer age of these household statues is astonishing. The Ganesh festival is perhaps the only occasion when both mother and son are welcomed and worshipped together. And the Dixits have faithfully continued the tradition over the decades.
Watch the LIVE coverage here:
Many families bring home an idol of Gauri along with Ganesh, while some others bring out the idols that they had wrapped up and put away the previous year.
"If necessary, once in ten years we get them spruced up, repainted by professional idol makers," says Subhash Dixit, who retired as an officer of the Central Railway.
In Borivli, the Inamdar the tradition goes back over 30 years.
"She (Gauri) has made us housewives into better decorators over the years as we have improved our rangolis. And we have also improved our lives through fervent prayer," says Lata Dixit, who first led the prayers 42 years ago, when she entered the house after her marriage. Now, the fifth generation is taking the responsibility.
Lata remembers the advice her mother-in-law gave her. "She would tell me to do as much as I could without taking any stress. Since then, it has been easy going. The prayers are electrifying enough to draw all the family members," says the 65-year-old, who is now pointing the direction for her daughter-in-law.
The Gauri celebration is usually conducted in the house of the eldest family member. "In our house it's been there since the time of our great grandfather. The three brothers of our grandfather all stayed together in the village. When it came to passing on the idol, we were the only sons," quips Subhash Dixit, 70.
"But it is not a strictly family affair. Friends drop in to pray for their intentions too," says Namrata Inamdar, whose family got Gauri for the first time after a marriage in the family.
It is this interaction that builds relationships and strengthens the bonds. "once a neighbour attributed a cure for her illness to our Gauri. That was a high point for us," she says.
Gauri's reassuring presence over the years has built the belief among family and friends that she fulfills wishes. "And when these wishes are fulfilled it makes us happy," she added.