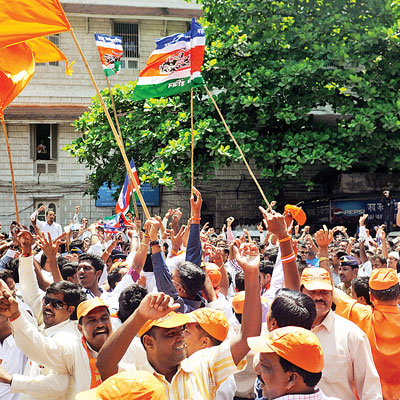 The Shiv Sena and the MNS are vying for the votes of Maharashtrians in the Lok Sabha elections, a contest that's being billed by political pundits here as a semifinal before the assembly polls due later this year, where the two regional parties have a lot at stake.
The April polls will be the first exercise of its kind after the death of Shiv Sena patriarch Bal Thackeray in 2012. Sena president Uddhav Thackeray and his estranged cousin Raj, who heads the MNS, are now locked in a fierce contest, and have even chosen to make personal attacks against each other.
Maharashtrians, who include the supporters of both Sena and the MNS, are however more worried about the issues they currently face like lack of affordable housing, jobs, pending redevelopment of old and dilapidated buildings in Mumbai, remunerative price for farmers and costly education. They feel these issues are being submerged in what is largely seen as a personal fight between the two estranged cousins for the Thackeray legacy.
"No one is talking about the real issues. At this rate, Maharashtrians, who form the bulwark of the support base of both Shiv Sena and MNS, may chose to desert these parties," said a Sena supporter.
Even die-hard supporters of the Sena admit that Maharashtrians, especially those from the lower and middle class, are being gradually edged out in the process of development, despite the almost five-decade-old political presence of the sons-of-soil parties.
"The MNS may get its core votes, but it may lose out on the floating and fence-sitting votes," said a political observer, adding that the party was looking to safeguard its votes for political dominance in the assembly polls. The MNS has fielded just 10 candidates in the Lok Sabha polls. And incidentally, eight of these nominees are fighting Sena candidates.
Sainiks now allege in private that BJP leaders like Nitin Gadkari and Gopinath Munde had made an underhand deal with Raj to stay away from the contest to prevent anti-Congress votes from being split. MNS, however, claims that it had fielded candidates only in those seats where it had a strong presence.
"The thrust of Shiv Sena campaign should be on uniting Marathi manoos. But now, more than opposing the Congress and the NCP, the Sena campaign is MNS-centric," noted Sandeep Pradhan, political editor, Maharashtra Times. According to Pradhan, some of Raj's people were feeling let down by their leader, who they felt had not much to show on development front; Uddhav too had disappointed some Sena supporters.