She's blatant, honest and dramatic and is not cowed down by bigger parties and their even bigger campaigns. Bollywood's ex-item girl Rakhi Sawant talks about her transition from movies to politics and why her father would be happy with her career move.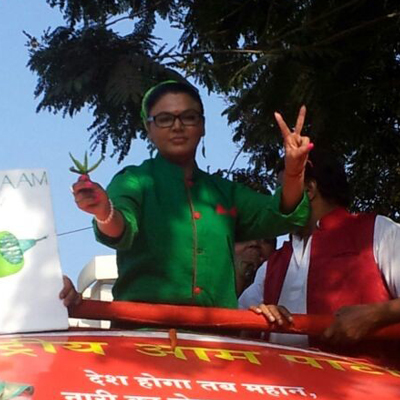 "Me logon ke liye ladna chahti hun," (I want to fight for people) says Rakhi Sawant, founder of 'Raashtriya Aam Party'. She was denied a Mumbai ticket to contest Lok sabha elections from BJP.
Digging further, she says, "What would I achieve or contribute by contesting from Srirampur in Kolkata?. BJP was offering me a ticket from that village whereas my own ward and constituencies need me more."
Talking about her entry into politics, she says, "My father never liked me getting into Bollywood but I wanted to be there at that point of time. But, I am glad to have switched careers and joined politics. Here, I can take up activism and issues that make a difference."
Rakhi's father worked with the police and she was said to be at warring ends with him for a long period of time. "His soul must be at peace now thinking about my move to politics. He always wanted me to join either the police department or politics," she adds.
On prodded about her agenda for politics, she says, "Every leader just makes shallow promises and never looks back when he is in power. I want people to give me a chance in power and see the difference."
Below is an outline of issues that Rakhi would like to take up when her party RAP is in power.
* Old age homes for women thrown out of houses and cannot earn their livelihood
* Preventing corruption in hospitals and streamlining delivery of medicines from government to publication
* Providing employment to youth
* Preventing household violence
RAP members along with some women have been taking up rallies around the city and green chilli is her party's mascot. Her nomination has been confirmed recently and she recently announced her estimated net worth assets to be around Rs 15 crores to EC. "I have taken black chillies as my symbol as they would be visible in black-white format on EVM (Electronic voting machine) and want to make an impact during these elections," adds Sawant.
"No comments" echoed thrice from Rakhi when we questioned her on Narendra Modi, Rahul Gandhi and Arvind Kejriwal.
With Women Power @ #Juhu my Padyatra starts towards Juhu to Chandan Cinema. #loksabha #elections2014 #greenchilly pic.twitter.com/iYm03b33MU

— Rakhi Sawant (@RAP_RakhiSawant) April 11, 2014
Targeting politicians presumably Gurudas Kamat, Sawant adds, "Every party is visible during elections and spends 100 crores and purchases votes. But, I can't and won't do that. I want people to give me a chance in governance as MLA."
Here's a list of what Rakhi has in store for you:
* My party's agenda is women empowerment. I want women to be able to work as bus conductors and foray into jobs that are mainly done by men. Only then will we be able to bring the idea of gender equality into forefront.
* I want to give jobs to young people. This will help them carve a career and give back to society.
* Self-defence classes: I want to provide classes to women to protect themeselves.
* I want to start a 'beti bachao' campaign and provide quality education in BMC schools.
Here's a look at some of the campaign videos by Sawant: