Tiring out residents seems to be civic body's latest tactic as even on Day 2 of the demolition drive, it refrains from cutting off electricity and gas connections to flats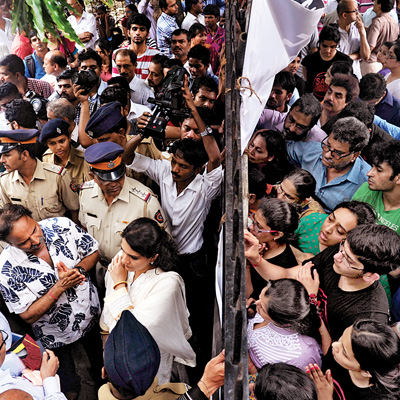 In what seems like a tactic to 'tire out' residents of Campa Cola Compound, the Brihanmumbai Municipal Corporation (BMC) on Saturday repeated its 'go slow' approach during its drive to bring down illegal flats in the residential buildings.
Even on the second day of the drive, BMC did not disconnect electricity and gas connections of the 90-odd unauthorised flats after residents continued to resist municipality's action. Like on Friday, BMC tried to engage the protesters in dialogue, asking them to let the authorities enter the premises and carry out demolition. While BMC's communicative approach did not yield result during the two-and-a-half hour struggle to begin the drive, it collected evidence — photographs and video grabs of protesters —to substantiate its case of contempt on part of residents.
"Performing hawan to block our way is not going to stop us from performing our duty. It is a court order and we must follow. These emotional appeals/requests won't work now," Anand Waghralkar, deputy municipal commissioner, warned the residents.
Waghralkar, however, refused to comment when asked if BMC was trying to tire out the residents. "We are just doing our duty. We have given the residents every chance to let us follow the SC order. But since they resisted action, we had to stop demolition for the day. We will go to the Compound on Sunday too," he added.
A senior civic official, however, said given that SC's demolition order does not specify any stipulated time frame within which the demolition is to be carried, BMC is taking its time to ensure peaceful demolition.
The official said BMC will go ahead with a restrained approach to exhaust the residents. "On Sunday too, our men will appeal to residents to allow us to carry out a peaceful demolition," the official added.
Residents, it seems are aware of the civic body's tactic of trying to tire them out. "They did nothing on Friday and Saturday. They will be back on Sunday too. Have you ever seen BMC working so efficiently in other cases? They want to work on holidays to bring us on road. They are aware people can be tired out and, if they use force, we don't stand a chance. Let's see what is in store for us on Sunday," a resident said.
Indirect action
On Saturday, BMC and the police arrived at the spot later as compared to the time they arrived on Friday. Along with policemen, BMC had deployed its security personnel at the spot. Civic officials tried to convince residents for nearly two-and-a-half hours. Instead of going tough, the civic body chose to collect photographs and video grabs of the residents resisting their action
Meanwhile, BMC filed a complaint against 30 residents for obstructing the demolition under section 353 of the IPC on Friday night. Vinayak Deshmukh, zonal deputy commissioner of police, said, "Late on Friday, we registered a complaint against 30 residents of Campa Cola Compound. The case has been registered under several sections of the IPC, including unlawful assembly and preventing a public servant from discharge of his duty. No arrests have been made in the case so far."