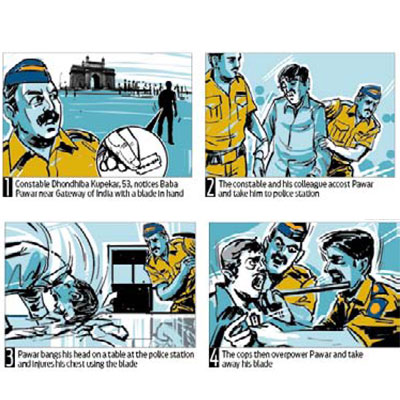 The Colaba police had a tough time on Thursday trying to control a 40-year-old drunk man who was carrying a blade at Gateway of India. The police brought the man to a police chowky, where he allegedly abused the officers, hit his head on a table and broke its glass and wounded his hands and chest using the blade. The police later overpowered him and seized the blade.
The arrested person has been identified as Baba Sanga Pawar, a footpath dweller behind Hotel Taj.
According to the police, around 10.40am, constable Dhondhiba Kupekar, 53, a resident of Dadar police quarters, saw a man, who appeared drunk, walking near Gateway of India with a blade in his hand.
"Anticipating that the person can do harm to people as Thursday was a government holiday and Gateway of India remains crowded with locals and foreigners, the constable accosted the man," said an officer.
He added that Kupekar and his colleague tried to take Pawar in their custody. "Pawar hurled abuses at them and also manhandled them. The policemen then brought him to the Gateway of India police chowky, where Pawar did further damage," the officer said.
Pawar, who has four criminal cases registered against him at the Colaba police station, was booked and arrested under sections 427 (mischief and causing damage), 353 (assault or criminal force to deter public servant from discharge of his duty) and 504 (intentional insult with intent to provoke breach of the peace) of the Indian Penal Code.
Previous incidents at Gateway
In August 2005, the Colaba police had arrested one Uzair Patel who had allegedly stabbed two Manipuri girls at Gateway of India in broad daylight. One of the girls, a 22-year-old, had succumbed to her injuries in the hospital. The girls were feeding pigeons when the incident occurred. Patel, an unemployed resident of Jogeshwari, had stabbed his father repeatedly over a domestic quarrel and, a few hours later, struck again at Gateway of India.
In May 2011, in a case of business rivalry, an ice-cream vendor had allegedly stabbed another vendor at Gateway of India for selling ice cream to tourists at cheaper rates. The accused had allegedly stabbed his rival for taking away his customers. The victim was admitted to a nearby hospital and the attacker was arrested.