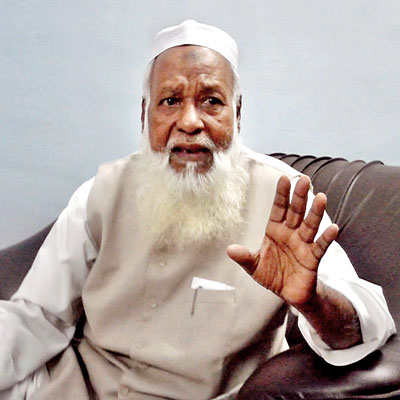 Maulana Asrar-ul-haq, general secretary of the Jamiat Ulema-e-Hind and Congress MP from Kishanganj in Bihar has warned against "any attempt to tamper with the Constitution".
The maulana, who is also an educationalist and writer, told dna during his recent visit to Mumbai that the people would strongly resist any move to scrap Article 370, which confers a special status to Jammu & Kashmir.
The religious leader said, "I was happy when Prime Minister Narendra Modi assured the nation that he would work in the true spirit of the Constitution. Hence he should not do anything to alter the Constitution in anyway whatsoever."
He noted that the BJP secured only 31 per cent of the votes polled in the recent parliamentary elections. "This means that an overwhelming majority comprising 69 per cent of the voters who took part in the polls were against the BJP. This being the case, the BJP has no mandate to tinker with the Constitution in any way whatsoever."
Expressing hope that the new government would uphold the Constitution, the maulana criticised Union Minister for Minority Affairs Najma Heptulla for her statement that Muslims, who number over 25 crores, should not be regarded as a minority community. He said no one can remove the safeguards incorporated in the Constitution. Maulana Asrar-ul-haq said all ministers must be loyal to their oath.
When asked why J&K should continue to have a special status when it was an integral part of India, the maulana said there were certain historical reasons behind the enactment of Article 370. "I'll elaborate my views on this subject on the floor of Parliament," he added.
Maulana Asrar-ul-haq is the founder and general secretary of the All-India Talimi Foundation, which is committed to the spread of education, and is also a founder of the All India Milli Foundation. He has established many madrasas and schools across the country and also a separate girls high school with hostel facility at Kishanganj.