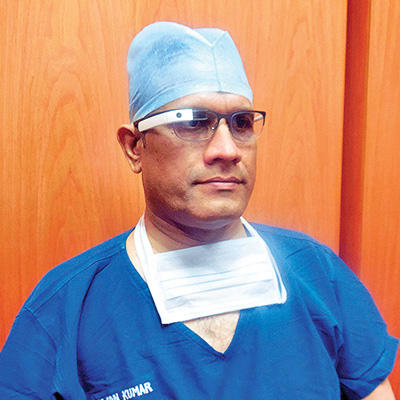 Two city-based doctors have an eye on the future. They are toying with the idea of implementing the Google Glass technology to facilitate complicated surgeries and get in touch with junior docs who need urgent advice.
Dr Pavan Kumar, head, cardiac surgery, at the privately run Nanavati Hospital in Vile Parle, conducted a heart surgery last week with the device perched atop his head. He calls out loud, "Go Glass," followed by a verbal command to record the surgery, which sets the Google Glass to record the surgery.
For a person averse to technology, it may seem that these doctors are talking to themselves. However, the thumbnail-sized screen on the top of the right side of Google Glass works wonders. It behaves like a video camera and records the surgical procedure. In the near future, with the development of applications, surgeons will be able to stream live surgeries through the glassware.
"The glass which is connected to an iPhone via wifi has tremendous potential for performing tasks. It will help the doctor to take opinion, record lectures and stream live surgeries," said Dr Kumar.
Dr Kumar's team is working at syncing the glassware with an application for telemedicine. "The application records patient's medical history and reports the treatment offered. The patient may be sitting far away, but the doctor has all the details of the patients available to him in a flash. He may even offer consultation or guidance while accessing patient records on the move," Dr Kumar told dna.
Close to 5,000 IT developers across the world have been currently handed out Google Glass for testing purposes. "Each piece costs $1500 or Rs 95,000 at the moment, but prices will come down to around Rs 30,000," said Dr Rakesh Sinha, laparascopic surgeon, Hinduja Healthcare Surgical at Khar West.
"It is a brilliant device for maintaining patient records. Also, it's of immense use in emergency cases or casualty when a junior doctor flashes vital parameters, blood pressure, cardiogram and oxygen levels of a serious patient to a senior who can access the records immediately and help salvage the condition," said Dr Sinha.