Action comes after urban development minister Uday Samant announces his plan to monitor the repairs being undertaken by BMC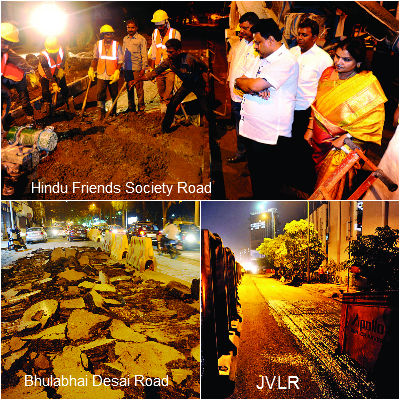 Two days after dna reported that the Congress-led state government is keen on knowing whether the Brihanmumbai Municipal Corporation (BMC), run by the Shiv Sena-BJP alliance, is undertaking any public or contractor-oriented road works, the saffron alliance has swung into action.
On May 8, dna had reported that minister of state for urban development department, Uday Samant, would personally visit ongoing work sites to have first hand information of the repairing of the city's roads, being improved at a staggering cost of Rs3,000 crore this year. Samant had also warned civic officials of stern action if the ministry found anything wrong with the works.
Reacting to the report, Shiv Sena leaders in the BMC toured sites in the island city, eastern and western suburbs on Friday night, before Samant could undertake his drive.
However, the Sena corporators, including mayor Sunil Prabhu, maintained their tour has nothing to do with Samant's move.
"It is a very common for us to visit work sites in the run up to monsoon. Be it Uddhavaji or other party leaders, we inspect works to ensure quality. Samant's plans, however, sound uncommon, especially in view of the assembly polls. Besides, the minister convening contractors too for his meetings with civic officials leaves scope to doubt if there is something fishy," Prabhu retorted on the sidelines of the visit.
The mayor, who was accompanied by civic standing committee chairman Yashodhar Phanase, house leader Trushna Vishwasrao and senior roads department officials, took potshots at Samant for the alleged poor condition of roads maintained by government agencies. "He should take care of roads maintained by PWD or MSRDC first. The BMC and its officials are capable of giving Mumbaikars good roads," Prabhu claimed.
Samant welcomed the corporators' tour, albeit sarcastically. "Anyway, my drive was apolitical and aimed at addressing public grievances. But if that makes the Sena leaders work for the residents, then nothing like it. If their efforts give Mumbaikars good roads, I will be very happy," he quipped.
Reacting to the allegation of his interest in meeting contractors, Samant claimed he was more transparent than the Sena corporators. "If they manage to substantiate the allegations, I will quit politics," he challenged.
Highlights of the visit
Prabhu paid visits to work sites like Marine Drive and Bhulabhai Desai Road (in town), VN Purav Marg and Jogeshwari-Vikhroli Link Road (eastern suburbs), Hindu Friends Society Road in Jogeshwari east and RTO road in Andheri's Four Bungalow (western suburbs)
The BMC plans to complete concretisation of a 180-metre stretch on the 4.5 km-long Marine Drive, near Trident hotel, by May 25. The mayor instructed the contractor concerned, RPS Infra, to also treat potholes on the arterial road during monsoon.
Officials informed improvement of 70 per cent portion of Bhulabhai Desai Road will be completed before the onset of the monsoon.
In order to address the problem of weakening asphalt stretch on JVLR, the BMC is using grade I bituminous concrete, which is normally used for constructing highways. The corporation is also mulling over undertaking improvement of junctions at the highways (eastern and western express) maintained by the PWD.