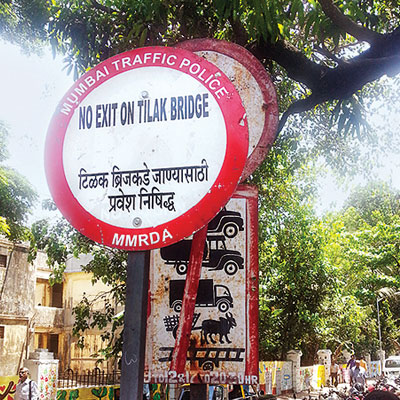 Nearly three weeks after dna reported on the traffic police had denied entry to two important roads in Dadar thus upsetting locals, the roads have now been opened for the motorists.
The two roads—Sir Bhalchandra Road and Tilak Colony Road—that lead to Tilak Bridge in Dadar (east) were closed for motorists, forcing them to take a detour through Babasaheb Ambedkar Road. While the Ambedkar road always witnesses slow moving traffic, with more motorists taking this route, it was badly affecting traffic movement.
The traffic police said that they would taking vote of objection from the residents and depending on how many want the roads closed for motorists, a final call be taken. As of now, both the roads are open for vehicles.
Earlier, the locals had claimed that the roads were out of bound for motorists as the residence of Qaiser Khalied, additional commissioner of police (traffic) is located on Bhalchandra Road and the top officer was getting disturbed.
Dr B K Upadhyay, joint commissioner of police (traffic), however, refuted the allegations. He said, "The roads were closed because many residents had approached us and complained about continuous chaos. An increase in the number of vehicles on these roads was disturbing them. We will take the final decision after vote of objection from residents."
Upadhyay further added that never and nowhere has a road been closed for motorists because a government officer is disturbed. "These were baseless allegations," Upadhyay said.