Raj, who had inherited his uncle's cartooning talent and mannerisms, quit the Sena in 2006, largely due to leadership disputes with cousin Uddhav.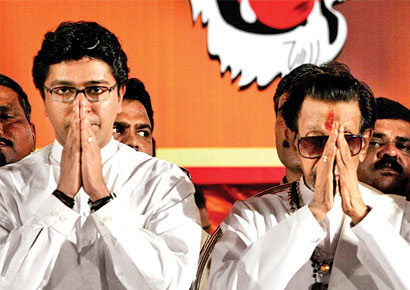 Though Raj Thackeray's decision to split the Shiv Sena posed the biggest threat to the saffron outfit, Shiv Sena insiders swear that the relationship between Bal Thackeray and his estranged nephew continued to be affectionate. Raj, who had inherited his uncle's cartooning talent and mannerisms, quit the Sena in 2006, largely due to leadership disputes with cousin Uddhav.
"But, despite the split, affection between uncle and nephew continued," said a Sena insider, reminiscing that during his school days, Raj, whose real name is Swararaj (his dad was a music director) but was fondly called 'Tinu' by his uncle during childhood, spent many weekdays with Thackeray's family in Bandra while Uddhav, the youngest of three brothers, lived with Raj's father, uncle Srikant, in Dadar. Between the families of Shrikant and Bal Thackeray, Raj, who has a sister, was the youngest of all five cousins.
While Uddhav's brothers and Raj studied at Dadar's Balmohan School, and while Uddhav passed out of the prestigious JJ School of Art, Raj dropped out and later started their respective advertising agencies.
Raj, who reflects the archetypal Shiv Sainik as compared to his gentle and mild-mannered cousin, accompanied Thackeray to his political rallies and speeches. He entered politics before Uddhav, when he led a morcha of unemployed people during the state legislature session in Nagpur in 1993. On the other hand, Uddhav, who participated in the Sena's successful 1985 BMC campaign dabbled in the Sena mouthpiece, Saamna, which was started in 1989, and made a last-minute entry at Raj's Nagpur protest.
Dnyanesh Maharao, editor, Chitralekha (Marathi) and author of 'Thackeray: Life and Style,' pointed out that Thackeray was responsible for moulding Raj as a politician and as a cartoonist. In 1986, when the cartoon magazine, Marmik, went all-colour, Thackeray ensured that Raj drew colour illustrations for it. Raj also etched cartoons for Marmik when he was in class 10.
During the 1995 polls, Raj campaigned in places which his uncle could not visit. There also was a demand from workers for the nephew, in whom they saw an image of their supremo, to speak at rallies. This, say Sena insiders, possibly sowed seeds of conflict between the cousins.
Meenatai, who is also the sister of Raj's mother Kundatai, and Balasaheb were like parents to Raj, said a former Sena legislator, adding that it was common for Thackeray to sit with Raj on his lap while meeting his associates. "Raj's oratory, mannerisms and expressions reflect Balasaheb's influence," he said, adding this showed his uncle's influence on him. In fact, the Sena grapevine says a room used by Raj at 'Matoshree' remains locked even today.
The Kini murder controversy, during the Sena- BJP regime, saw Raj, until then seen as his uncle's political successor, come under a cloud and Uddhav increased his political presence during this period. In 2003, the motion to make Uddhav the effective number 2 — Sena's executive president – had ironically been moved by Raj during a party convention in Mahabaleshwar.
There's little chance of Raj and Uddhav coming together now. There are many reasons for it, of which one is that people around the two will thwart such attempts," said a Sena leader.