She was married to an already married colleague and staying with his first wife.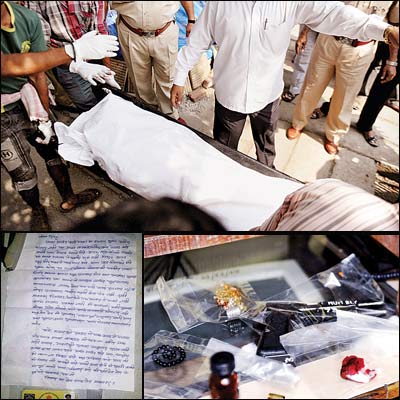 A railway constable allegedly committed suicide by shooting herself with her service pistol inside the Thane railway police station on Sunday morning. She was on duty and took the extreme step allegedly due to depression.
"The deceased has been identified as Vaishali Pingat, 21. She was attached to the Thane Railway police station. Her body was sent to JJ Hospital for a post mortem. The service pistol, a live bullet and the empty cartridge will be sent to Forensic Science Laboratory at Kalina for a ballistic report," said an officer of Naupada police station. He added that the police have recovered two pages of hand-written suicide note in Marathi pinned with her photo identity card from the spot. She has held herself responsible for the act.
"Vaishali, who is originally from Pune, joined the Mumbai Railway police force in 2012. After the training, she was posted at Thane railway police station in 2013. Whe had fallen in love with a married constable, Vijay Lingayat, 30, who was serving at the same police station. With the consent of his first wife, he married Vaishali in September 2013. The couple was staying at Titwala with Vijay's first wife and their two-years-old child," said MD Pawar, assistant commissioner of police (Kalyan railway division).
The suicide took place around 8.45am. After finishing her night duty, Pingat opened the safe custody of the armoury with the keys at the station and took a service pistol and two live bullets. She then went inside the computer room behind the senior police inspector's cabin. She kept the pistol on her right temple and pulled the trigger. The bullet pierced through and came out from her left temple.
"Barely after five minutes, a male constable entered the computer room to find Pingat lying in a pool of blood. The pistol was lying beside her. Although in a state of shock, he rushed out and called a doctor whose clinic was nearby the police station. The doctor checked Pingat and declared her dead. The constable then informed his superiors about the incident. The body was then sent for a post mortem," said Pawar.
Deputy commissioner's suicide in restaurant
Sanjay Banerjee, 47, deputy commissioner of police of Maharashtra Anti-terrorism squad (ATS) allegedly committed suicide by shooting himself in the head on March 22, 2013 in front of wife and two children in a restaurant in Thane. Besides Banerjee's wife and two children, several other customers at the Goa Portuguesa restaurant witnessed the police officer dying as he shot himself with a gun sitting at a dining table. While his family claimed that it was an accident, his colleagues said that he had some domestic problems and was disturbed for a couple of months.