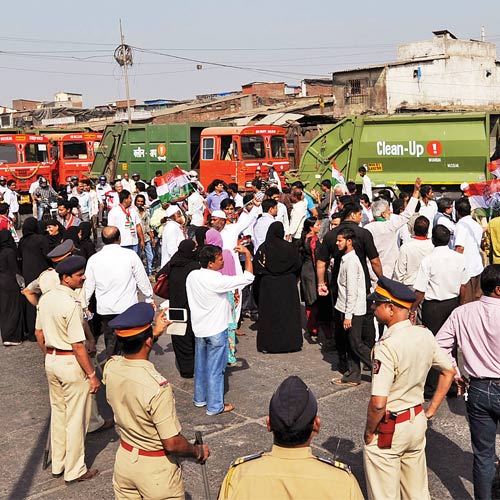 Residents of Deonar on Thursday held a protest over the delay in shutting down the dumping ground in their area which is causing various health and environmental hazards.
The protestors assembled at the signal junction on Ghatkopar-Mankhurd link road, near Shivaji Nagar, which is a stone's throw away from the dumping ground. The demonstration was organised by Yusuf Abrahni, former Congress MLA.
Abrahni said that in 2005, then chief minister late Vilasrao Deshmukh had said in the legislative assembly that the Deonar dumping ground would be shut in four years.
"So, it should have been closed by 2009. But the civic authorities have failed to do so. The pollution on account of the dumping ground is responsible for serious diseases like tuberculosis, gastroenteritis, asthma, afflicting numerous residents," Abrahni said.
He complained that BMC did not construct a boundary wall to limit the area where the garbage continues to be dumped. "This clearly shows that the civic body is turning a blind eye to the suffering of the people. We hope that the authorities will understand this problem and close the dumping ground," he said.
Officers in the civic department say that it is not possible to close down the dumping ground at Deonar as there is no other alternative available immediately. "We have not been able to start the processing plants at Mulund, Kanjurmarg or Deonar due to hurdles in getting permissions," said a senior officer of the solid waste department.
Mumbai generates about 6,500 metric tonnes of solid waste per day and 2,000-2,500 metric tonnes of construction waste. More than 6,000 metric tonnes of waste is dumped at the Deonar dump and the rest is dumped at the Mulund dumping site.