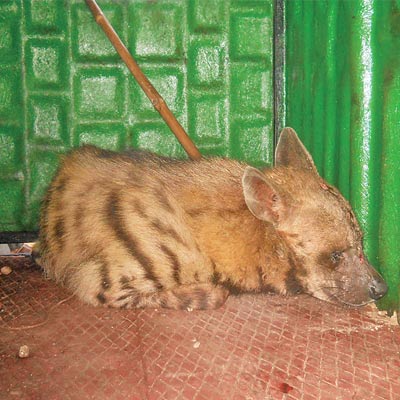 A hyena that strayed near Kainad village in Dahanu taluka on Wednesday night was beaten up with sticks by villagers, who feared that the animal might attack them.
The animal suffered serious injuries. However, it was rescued by activists who came to know about the incident. They brought the animal to the Sanjay Gandhi National Park in Borivli (East), where it is being given treatment.
Dhaval Kasar, president, World Life Convention and Welfare Association, said, "We were informed about the incident and went to the spot. We gave it some medication and then informed the forest officials."
Kasar explained that the tribals presumed the hyena to be a jackal and were scared it might attack them. These animals commonly feed on the flesh of dead animals and scour the forests for their food.
Forest officials at Sanjay Gandhi National Park are taking care of the hyena.
G Mallikarjun, deputy range forest officer, said, "As soon as we received a call, we sent our team to the area. We have noted details about the incident and taken the statements of the people there. Officials will release the animal in the forest after a few day."