Supporters organise pujas for their leader's speedy recovery outside his Bandra residence.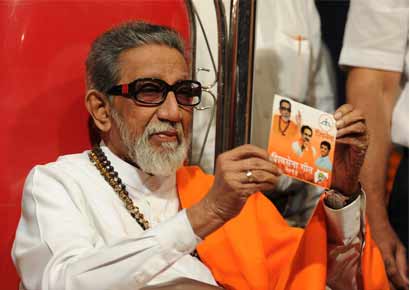 "Darshan dya, darshan dya, Balasaheb darshan dya (Balasaheb, give us your darshan)."
"Awaaz kunacha? Shiv Senecha" (Whose voice will ring aloud? Shiv Sena's).
The crowd on the busy Kalanagar junction at Bandra (East) Highway might have thinned as compared to the last two days, but the concern for party chief Bal Thackeray's health remains intact.
While the ailing Thackeray, who is credited with reviving and nurturing the nativist agenda in Maharashtra, is being treated by doctors at his residence Matoshree in Kalanagar, Sainiks have kept their vigil intact, invoking various gods to pray for his speedy recovery.
Amid the chanting of slogans, party workers organised aartis and prayed outside the barricades put up by the police to keep out the swelling crowd.
A Sainik also brought in a Rohini Shiv yoga expert from Ranchi in Jharkhand to create "positive energy" and cure the octogenarian Sena chief. "Rohini vidya is that of Lord Shiva," explained the rudraksh-wearing Arvind Shahdeo, who was brought down to the city by Sainik Sanjay Sawant.
Shahdeo claimed that the practice of the vidya, which helps manage energy flow in a body, had increased the positive energy of the Sena chief from 40% to 70% on Friday. "This (treatment) will lead to better blood circulation and build up energy… his health is continuously improving and I feel he will be cured," said the Rohini Shiv yoga guru.
While demonstrating his art blindfolded with the help of two special Rohini sticks, Shahdeo, 40, who claims to have studied manuscripts on the subject for the last 25 years, said he will drive out all negative energy.
Shahdeo also visited Matoshree to perform the "procedures" on Thackeray. "He is much better now than he was the day before yesterday," Shahdeo claimed, adding that he would continue the "treatment" till the Sena chief was cured.
Corporators to meet today
While Shiv Sena chief Bal Thackeray is ailing, the party has summoned its corporators for a meeting on Friday morning
A Shiv Sena corporator, who did not want to be named, confirmed that they had been called for a meeting at 11am at the Thackeray's residence Matoshree at Kalanagar in Bandra (East)
"We are eager to know what kind of orders will be given to us here," said another Sena corporator, adding that they were likely to be given instructions on the future
course of action
CM takes over home dept to look after city's security

Autorickshaws, taxis are back on roads

Police cover at Matoshree to stay till Thackeray recovers