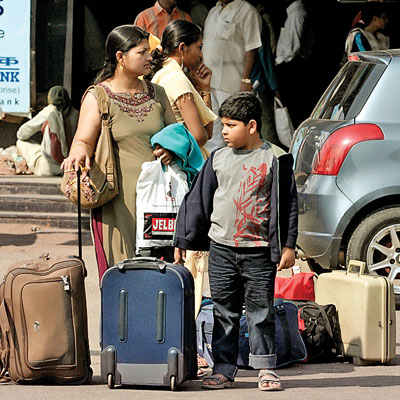 The police is undertaking a major drive to make railway stations safe for commuters, to ensure against a repeat of the Esther Anhuya case.
The joint operation by the Mumbai police, the Railway Police Force (RPF) and the Government Railway Police (GRP) has focused particularly on taxi drivers, who have been mentioned as a major concern by travellers.
Already, the cops have registered more than 300 cases at Dadar station alone, in the six weeks that the drive was initiated.
'We have started this drive to make commuters feel more secure. We had a meeting with all the personnel that are responsible for security at the station and the area around it," said Madhukar Pandey, additional commissioner of police, central region.
"One of the major concerns was the taxi drivers who do business at the station. We had a meeting with the taximen's association and have given them guidelines," Pandey said.
Of the 310 offences registered at Dadar, 178 were for parking in restricted areas, 28 drivers were booked for not displaying badges, seven were booked for soliciting commuters.
The heightened concern springs from the fact that the principal accused in the Esther murder case, met the girl on the concourse of Lokmanya Tilak Terminus (LTT) and told the girl he was a taxi driver.
Pandey said, "We have given clear instructions to security personnel to ensure that no taxi driver enters the station premises."
The police have also set up a help desk at Dadar station that is attended by personnel of all three police sections involved in the operation. They are also planning to put up large posters at the stations, informing travellers about the helplines available.
Pandey is encouraged by the results of the initiative and wants to intensify the effort at other major stations. "The drive has been successful and we will continue our effort so that commuters in Mumbai are safe," he said.