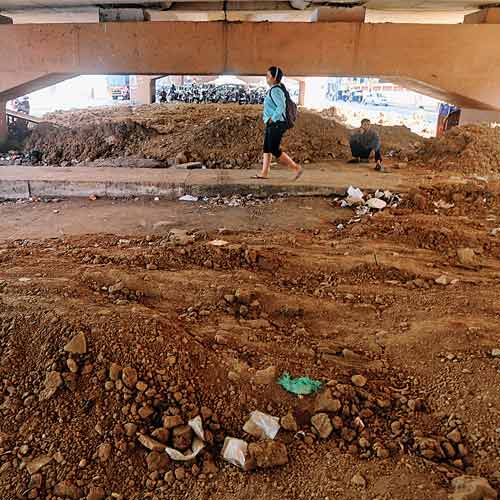 A Congress-BJP showdown is threatening the development of a little open space under the Andheri east-west flyover. The area, which was once littered with garbage and a den for anti-social elements, junkies and drunkards, has been cleared following efforts by K-west citizens' forum.
The beautification work was stopped at the behest of local Congress MLA Ashok Jadhav last month after the legislator learnt that the residents had sought the help from Ameet Satam, BJP corporator from the area. On Sunday, Jadhav put up a huge banner at the spot, announcing that he would be getting the work done.
"The idea was to clear the area so that people could use space and hawkers were accommodated under the flyover. But the local MLA did not allow us," said Prashant Mavani, convenor of the forum.
Jadhav said Satam is misguiding the residents. He said he had applied to develop the space six months ago, but Satam had approached the authorities just a month before. Jadhav said, "I had taken up the project after being approached by the residents."
Jadhav said the BJP corporator jumped to grab the limelight after he had set the ball rolling. "I have six gardens in my constituency and one work of developing a garden behind Tulip Star Hotel is going on. I have all the relevant permissions and document from MMRDA and BMC. I was a corporator for 15 years before I was elected as MLA. I will never break the law," said Jadhav.