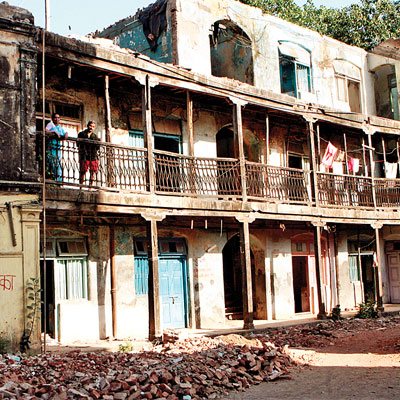 Civic officials tasked with preparing a report on the status of private dilapidated buildings in the city and submitting it to the commissioner Sitaram Kunte before rains say they have been asked to do the impossible.
According to the designated officers (DOs), they have been burdened with this additional responsibility apart from their regular job of looking into illegal structures in their wards. Mumbai has 24 wards.
With rains just a few days away, the burden on them has increased manifold. Recently, the problem was highlighted in a meeting at the BMC headquarters where the assistant municipal commissioners of all wards were present.
"Apart from issuing notices to those carrying out illegal constructions, we have to issue notices to dilapidated private buildings, which are more than 30 years old, so that they carry out structural audits," said a DO, on the condition of anonymity.
"If they do not carry out structural audits within the designated period, we have to send them reminders or take action against them. We have to attend hearings for those buildings embroiled in court cases and also have to reply to RTI queries," he said.
Civic officials from different wards also rued the fact that there the ward-wise distribution of DOs was disproportionate.
While the South Mumbai wards have the maximum number of dilapidated structures, there are only one, one and two DOs respectively in these wards. On the other hand, wards in the suburbs, where there are fewer shaky buildings, have more number of DOs, sometimes four in each ward.
Currently, there are 64 DOs across all the wards in the city.
"Moreover, we haven't been provided with vehicles to commuting within the ward. There are no record assistants or stenographers to support us in our work. As a result, we can only follow up on structural audits of few structures before monsoons," he said.
While Additional Municipal Commissioner Sanjay Deshmukh didn't respond to calls or messages, another senior civic official said the BMC administration will look into the problem.