Former project coordinator of electromagnetic fileds at WHO says radiation does not cause health hazards.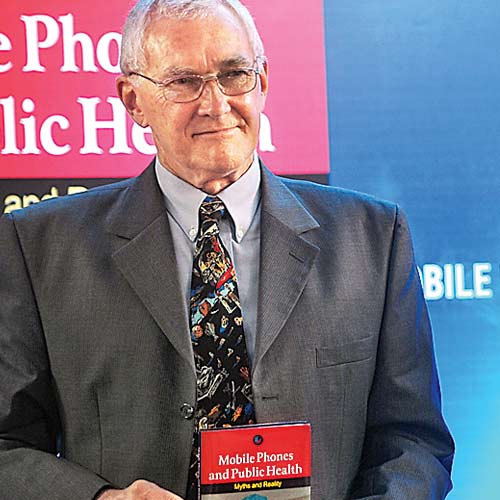 Michael Repacholi, former electromagnetic fields (EMF) project coordinator at World Health Organization and ex-chairman of International Commission on Non-Ionizing Radiation Protection (ICNIRP), on Monday said that the civic body's decision to ban mobile towers standing on top of schools, colleges and hospitals is based on ignorance.
"Since the radiation exposure does not pass downwards from the antenna and remains at the same level across all sides, there is no harmful effect on people in the building. So, the decision of banning mobile towers atop schools, colleges and hospitals is based on ignorance," said Repacholi while interacting with the media after releasing the book 'Mobile Phones and Public Health - Myths and Reality'.
As per the civic body's mobile tower policy, there will be a ban on installation of mobile-tower antennae on top of and within 100 metres of educational institutions, hospitals, children correction homes, orphanages, hostels and senior citizen homes.
He added that radiation does not cause any kind of health hazards. "It doesn't even cause a headache, sleep disorder or any other kind of ailments. No development is hampered in children above two years of age due to radiation. The cases of cancers reported in the city or in India is a mere coincidence and not due to radiation," he informed.
When asked about the Union government's decision to reduce radiation levels to 1/10th of the international limit, he said that reducing the levels from the international limit will create more concerns and confusion among citizens. "The concerned citizens should be given more information to help them create awareness about the issue," he said.
However, citizens' groups do not agree with Repacholi's view saying that there is enough proof and study to show that radiation causes health hazards. "The highest existing radiation levels from September 2012 should be shared with the citizens to let them know whether the levels have actually gone down to 1/10th levels," said Prakash Munshi, a Malabar Hill resident.