Groups of democrats make it easy for first-timers to enrol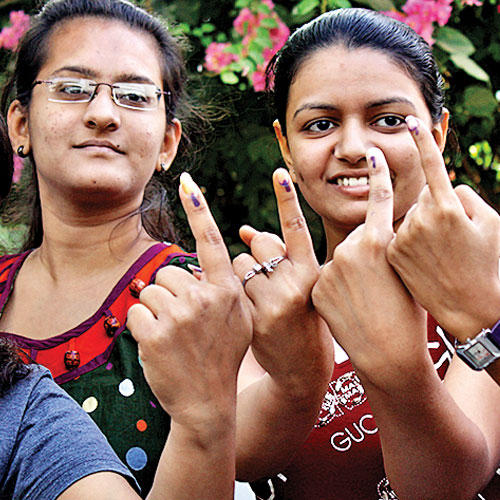 With the 2014 Lok Sabha elections drawing close, one can't help but wonder how many young people will actually cast their votes. The problem, say youngsters, is that the process is too complicated and tedious. Collegians and young adults feel that with no clear guidance, they would rather abstain from voting.
Fortunately for these first-time voters, new initiatives are attempting to simplify the process on a platform the youth best understand — social media. From registering to become a voter to the dos and don'ts on election day, these initiatives are effectively building a bank of young, informed voters.
Operation Black Dot
"Operation Black Dot is an initiative to make voting easy, engaging and fun for the urban youth," says Samyak Chakrabarty, one of OBD's founders, adding, "We are targeting those who are politically unaware and somehow do not feel the need to participate in our democratic process. Therefore our strategies and communications are aimed at awakening their minds and attracting their attention towards politics."
Using social media, Operation Black Dot attempts to break down political discourse in a manner and format that young people relate to. They've used Twitter, Facebook and YouTube for campaigns such as #Didyouthknow and #Askyourneta.
While the former is a compilation of must-know facts, with the latter, voters can address their queries to elected leaders via OBD. With 3,500 active users on their Facebook page, they seem to be on the right track. On the ground level, OBD works with 90 colleges across Mumbai that compete to get the maximum number of voters registered. Chakrabarty says, "All it takes is four minutes for a student to come to our booth in a college, give us a few documents, after which we do the rest."
The Vote Project
"The Vote Project is here to assist you in your voter registration process. We are partnering with some of Mumbai's leading colleges to help them achieve 100% student voter registration," says Gundeep Malik, who is involved in the initiative.
The Vote Project is an apolitical initiative of Yuva Satta, the youth wing of Lok Satta Andolan. "Our dedicated volunteers provide expert advice for you to successfully manage your voter registration application. Our website (www.thevoteproject.org) also serves as a one-stop shop for all your inquiries through FAQs, myth busters, electoral registration officer (ERO) address locator, etc," says Gundeep.