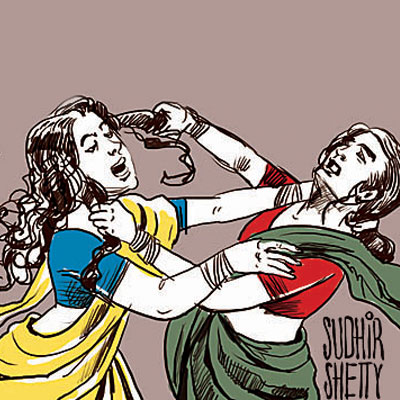 The Bombay high court on Thursday wondered if a woman can molest another woman and be booked under section 354 (outraging the modesty of a woman) of the Indian Penal Code (IPC). A division bench of justices NH Patil and VL Achliya was hearing a petition filed by a senior citizen, seeking to quash a molestation case filed against her by a 55-year-old woman.
Vimalabai Shah, 78, and her family approached the high court, seeking to quash an FIR registered against them on February 27, 2010, for allegedly assaulting and molesting a woman in their building in Borivli. Shah stays with her daughter, Rita Padechia, her husband Kirti Padechia and their three children in Sashi Tara Apartments, Borivili (West).
According to the petition, a dispute took place between the Padechias and the complainant woman along with some other members of the society on March 22, 2009. The Padechias lodged a complaint for assault against the complainant on the same day. However, the FIR was registered only in October 2009, alleged the petition.
In retaliation, the woman complainant lodged a complaint with the police on February 27, 2010, based on the March 2009 incident.
Pradip Havnur, advocate for Shah and Padechias, argued that the complaint was filed in retaliation to a notice issued by Shah's son, who is the secretary of the building. Shah sent a notice to the complainant for alleged illegality in the transfer of her flat.
The two families have been embroiled in a dispute since 2006 over this. Havnur even argued that Shah is 78-years-old and is bedridden.
During the hearing on Thursday, the judges sought to know if a woman can be booked for molesting another woman. "What is the legal position? If a woman is alleged to have committed such an act, can she be held under the available section?" asked justice Patil.
The court has asked Havnur to go through the legal position. The court will hear the petition after two weeks.