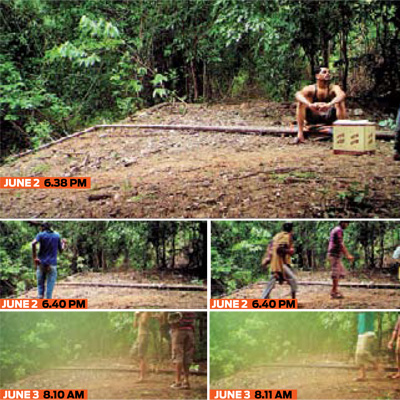 They had been set up to track wildlife movement in one of the most densely forested biological hotspots in Maharashtra. Officials in the state forest department were, however, surprised to see animals, albeit the two-legged kind, netted by the camera traps set up in the Tillari area of Sindhudurg's Dodamarg taluka.
In a first-of-its-kind occurrence, camera traps laid near Kendre village to track wildlife secretly photographed a gang of poachers who had allegedly killed a Sambar. Forest officials managed to track down six offenders and nabbed them with an unlicensed gun in their hand.
MK Rao, chief conservator of forests (CCF), Kolhapur range, told dna that the department had set up the cameras to track wild animals. "However, the camouflaged cameras clicked poachers sitting before it. We could identify six people, and they have been arrested," said Rao, adding that this was the first time these traps had helped nab poachers. They are all locals. Officials also recovered Sambar meat and an unlicensed, country-made gun which had been used to kill the deer.
Tillari is on Maharashtra's border with Goa and Karnataka, and boasts thick forest cover teeming with wildlife like leopards, elephants, tigers and gava (Indian bison).
Rao said apart from detecting poachers, these camera traps would help monitor all that happens in the jungle. "The forest department has been monitoring the movement of poachers in the jungles with these cameras, and now we have results. So, deterrence is ensured," added Rao.
A forest department official said earlier this month when an employee had gone to retrieve the cameras set up at a village near Tillari dam, he saw some people running away. They also dropped some Sambar meat that was in their possession. The cameras had captured some of these poachers, one of whom was holding a gun. The accused were arrested after inquiries were made in the nearby villages, and they have confessed to their crime.