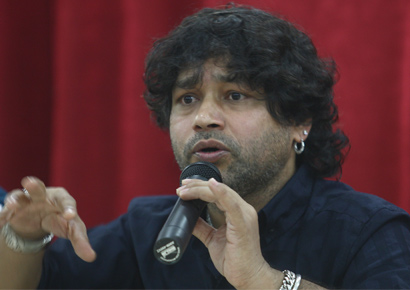 Bombay High Court today restrained Mumbai Police from taking any coercive action against composer-singer Kailash Kher on a bailable warrant issued against him by a Ludhiana Court in Punjab over a song.
The ruling was given by a Bench comprising Justices VM Kanade and PD Kode, which was hearing a petition filed by Kher seeking to quash the complaint against him.
Granting Kher interim relief, the Judges issued notices to the Maharashtra Government and Narinder Makkar, the complainant and a resident of Ludhiana.
The matter was posted for further hearing on August 4.
If Ludhiana Police came here to execute the warrant, they would have to take help of their Mumbai counterpart as they do not have jurisdiction here, said the petition.
Additional Public Prosecutor Poornima Kantharia argued that the complaint was filed in Ludhiana and hence the singer would have to approach the High Court of the relevant state (Punjab) to annul the complaint.
Makkar had filed a complaint in a Ludhiana Court alleging that a 2007 song "Babam Bam" sung by Kher had hurt his religious sentiments and hence criminal proceeding should be initiated against him.
According to the complaint, Kher had rendered the song, part of an album, in praise of Lord Shiva. It features a skimpily dressed girl and some "vulgar" scenes. Makkar said this had hurt his religious sentiments.
Kher's advocate Ashok Saraogi argued that the song was rendered in 2007 and the complaint was filed only recently for gaining cheap publicity. Also, the singer has never received any summons or notice from the Ludhiana Court.
The Mumbai-based singer learnt about the bailable warrant from a newspaper and approached the High Court for relief, the lawyer submitted.
Sarogi argued that all the acts pertaining to the song took place in Mumbai and not in Ludhiana. Hence, the Bombay HC alone had the jurisdiction to quash the complaint