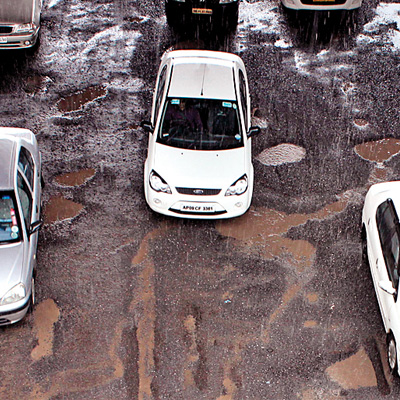 The Brihanmumbai Municipal Corporation (BMC) has started attending complaints regarding potholes, two days after dna reported about the civic body not issuing work orders to contractors and its road engineers being lethargic towards uploading photographs of potholes online.
The roads department has started allotting repair jobs to contractors, who began filling craters since Wednesday.
In order to set things right, the municipal authorities held a meeting of contractors and officials at BMC headquarter. During the meeting, the participants were reportedly asked to swing into action and assured of extending support in case the staff found difficulty in tackling potholes complaints.
"Following the report that engineers were not reporting potholes, senior civic officials instructed the municipal staff and contractors to look into complaints. One could see the result with the potholes complaints being closed. People will get relief," a source in the roads department said.
Residents though demanded the BMC to mend the way it works and allot contractors jobs when the financial plan for city is approved. "All these issues cropped up because the pothole filling contract was awarded at the last moment. Why the BMC has to work only after monsoon is around or media takes up the issue? Contractors should be appointed as soon as budget is presented," said Rajkumar Sharma, a Chembur-based civic activist.
Amongst other road-related issues, Sharma demanded non-BMC governing agencies like Mumbai Metropolitan Region Development Authority (MMRDA) to also ensure its roads are in proper shape. "After its work of constructing foundation for mono railway, the MMRDA handed over RC Marg in Chembur to BMC. The road continues to be in pathetic shape. The MMRDA must take care roads are in good shape whenever it hands over them to BMC or private layout," he added.
As on June 18, BMC's portal, www.voiceofcitizen.com, reported 64 potholes. Out of these, 25 were planned for treatment; while 6 grievances were closed (craters were filled).
Out of the total complaints, wards received 59 complaints, while the central agency (roads department) registered 3 grievances