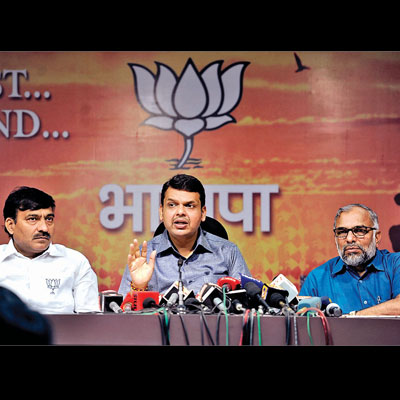 Buoyed by its success in the Lok Sabha polls in Maharashtra, the BJP has demanded that the Congress-NCP led state government resign after its electoral debacle and called for fresh elections.
"The link between these two parties and the people has been snapped in the 15 years of their rule," charged BJP Maharashtra president Devendra Fadnavis on Saturday, adding that the Congress and NCP had been in "denial mode over the possibility of their defeat and felt they would be elected to power regardless of anything."
"We demand that since the government has been decisively rejected by the people through this mandate, these two parties have no right to stay in power. They must... (resign and) immediately face the polls," he said, adding that the defeat showed "complete lack of faith in the government."
"The people of Maharashtra have given a massive mandate for Narendra Modi... and the Mahayuti. We thank the people from the bottom of our hearts. Our victory is dedicated to the people," said Fadnavis, noting that the Congress had not been routed so decisively even in the Janata wave in the aftermath of the Emergency in 1977.
Fadnavis charged that the state government had not addressed the problems caused to the people by hailstorms, drought and excessive rainfall. The 42 MPs from Maharashtra will meet Modi with senior leaders to request him to give more aid for the state considering the "neglect by the previous government."