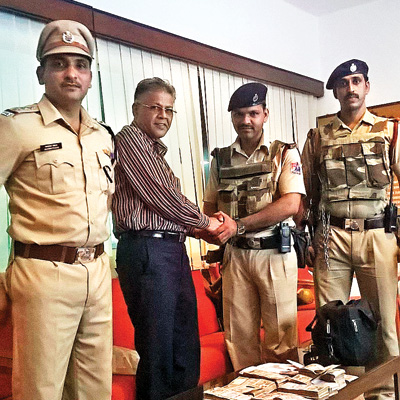 Girish Vadilal Shah is a very lucky man. It's not often that commuters get back things that they leave behind on Mumbai locals. He got back, in an hour after getting down from the train, a bag containing Rs 11.46 lakh that he had forgotten on a Churchgate-bound train on Thursday afternoon.
Sixty-year-old Shah has to thank Railway Protection Special Force constables Mahesh P and Harsh Vardhan for this. The two were on patrolling duty on platform number 1 and 2 of Chruchgate station. They noticed Shah's bag in the first class compartment of the train and promptly brought it to the RPF post on mezzanine floor of the station. It's the normal practice for security personnel on patrolling duty to check trains once they reach their destination to see if passengers have left something behind.
RPF senior commandant Anand Vijay Jha said Shah had boarded the train at Malad and got down at Charni Road where he has a shop. "He took home a similar-looking bag," said Jha. The papers in the bag gave RPF personnel information about Shah. He was asked to verify his bag and claim it.
Western Railway chief security commissioner DB Kasar has announced a reward of Rs 1,000 for the team that reunited Shah and his bag.
Missing boy returns home
In another case, a youngster from Thane, who had gone missing from his home on Wednesday, returned home safely home after the boy's family approached RPF, Thane. Senior inspector Satish Menon got the Railways to announce the news about the boy gone missing across all CR and WR stations. The boy's father sent a note appreciating the deed to all RPF bosses at CR on Thursday evening.