Westcoast boy shows his prowess in the US Open Taekwondo Championship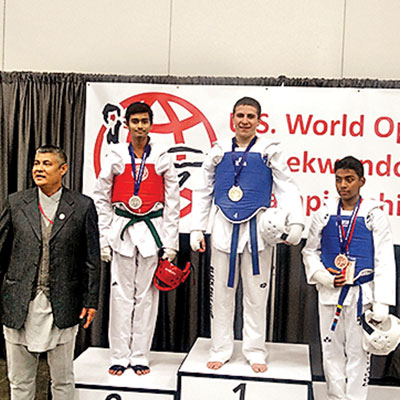 Sankeel Chavan, a student of Jamnabai Narsee School in the Westcoast, has become a source of great pride in his neighbourhood after winning a silver and two bronze medals at the US Open Taekwondo Championship held at Portland this year. Taekwondo (which loosely means "the way of the fish and the foot") is an ancient Korean martial art. It combines combat and self-defense techniques with sports and exercise.
Chavan, who has been practising the martial art for the last six to seven years, was first introduced to the Korean martial art at school. "At that time, I was very young and I enrolled for the Taekowondo class just out of curiosity." But within a couple of years and after regular training, Chavan got drawn to this art. "I started taking private training at home too."
Keen on putting up a good show at the championship, Chavan increased his hours of practice. "I used to practise regularly and I dedicated two hours on a daily basis." Taekowondo is agruelling sport where players get points for kicking, punching and blocking their opponent, and this young Lokhandwala resident admits to being extremely passionate about the fights and aggressive movements.
Chavan bagged three medals at the championship, which saw 1100 competitors across 20 countries competing with each other. The other Indian participants accompanying Chavan, which included Hardik Patel, Krishit Nandu and Nishant Shinde, also returned home with medals. While Patil bagged a silver and a bronze medal, Nandu was awarded a gold and abronze medal, and Shinde got two silvers. "The competition was extremely tough andthe other participants had also perfected their moves. But their speed was notas good as ours," quips Chavan, who was being trained by coach, Jayesh Velhal.Velhal in fact won the Best Coach Award at the championship.
Excited about his win, Chavan says that he will have to discontinue his Taekwondo training during his board exams but hopes to get back soon as there are more championships to win. "Taekwondo is recognised as an Olympic level sport and isgaining popularity amongst the Indian youth who are very enthusiastic to learnsomething new. I hope someday I will be able to make my hobby a full-fledged career."