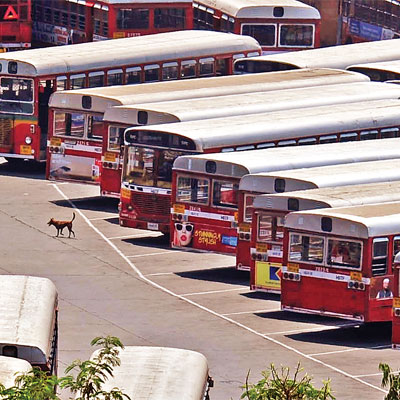 Despite the Bombay high court ordering the drivers and conductors of the Brihanmumbai Electric Supply and Transport (BEST) Undertaking to report to work, they continued to abstain from it on Tuesday evening by way of mass leave. However, it is not clear if the staff will turn up at depots on Wednesday.
With neither the BEST administration nor the staff ready to blink first, the authorities had to move court to provide relief to commuters. The HC ordered the staff of around 22,000 drivers and conductors to report to work at 4.45pm. The mass leave that began at 4am on Tuesday was not called off even by late on Tuesday night.
On Tuesday morning, only 17 conductors and 20 drivers turned up for work and only eight out of the fleet of around 4,200 buses came on roads. But even these eight had to be brought back to the depot after one of the buses was damaged and a driver sustained injuries due to stone-pelting by protesting workers at Charkop in Kandivli.
Before the court gave its judgment, as a face-saving measure, BEST Workers' Union leader Sharad Rao said they had not given any call for strike and that the workers themselves had opted for mass leave. At the same time, he threatened that if the new duty chart prepared by a Canadian firm is not withdrawn, other unions — auto, taxi and from the civic body — may also "support" BEST workers.
"After the HC order came in today, I personally requested Mr Sharad Rao to call off the strike and come back to work. We hope the union honours the order. We will have to wait and watch now," said OP Gupta, general manager, BEST.
Clearing the air over the duty schedule, a BEST official informed that the administration has implemented the same schedule at the other depots only to gain success. "Earlier, two bus depots were selected to implement the computerised working hours; later, 10 more were selected. It's only after the success (of the schedule) at these 12 depots, it was decided to cover the remaining 26 across the city," he added.
Also read:
With BEST bus strike, Mumbai tries to make do with alternatives, struggles