The Bombay Stock Exchange Sensitive Index (BSE Sensex) on Monday registered its highest gain in 19 quarters as it closed 1.25% at 25,413.78.
The NSE Nifty closed 1.37% up at 7,611.35. During the April-June quarter, the Sensex gained 3027.51 points and the Nifty appreciated 907 points, both up 13.5%. Investor wealth (market capitalisation) grew by Rs 16 lakh crore to Rs 90.20 lakh crore.
"This is the beginning of a pre-budget rally," Rahul Shah, vice president at Motilal Oswal Financial Services, said.
The indices are yet to break the highs of June 11 when the Nifty touched 7700.05 and the Sensex made a new high of 25,735.87.
"Though the market is on a bullish mode, today's rally can be attributed to many funds window-dressing their NAVs (net asset value) for the quarter," said a fund manager at a private mutual fund.
Most participants agree that foreign institutional investor (FII) inflows as well as adjusting for higher NAVs caused a sharp spike in the indices.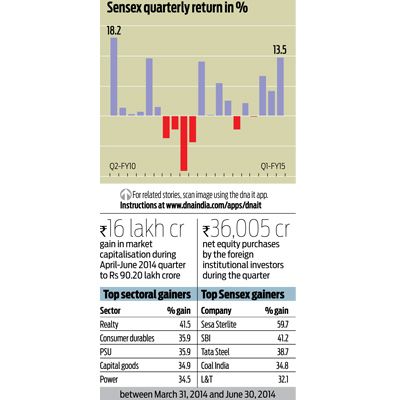 "Though softening of oil prices and easing tensions in Iraq contributed to today's rally, the key driver has been FII buying," said Arun Kejriwal of Kejriwal Research.
FIIs on Monday pumped in Rs 1,288 crore in the cash equity segment. Domestic institutions were net sellers to the tune of Rs 181 crore.
During the April-June quarter, their net purchases increased to Rs 36,005 crore. In the previous quarter, it was Rs 24,804 crore.
"It's the best quarter in many years, but the market is striving for new information (government policy announcements, budget etc). The market is, therefore, tentative and moving in a tight band of 200-300 points," UR Bhat, managing director at Dalton Capital Advisors (India) Ltd, said.
Both Nifty and the Sensex opened with upward gaps of 25.25 and 79.63 points, respectively, accounting for nearly 25% of the day's gain.
Despite the euphoria over FII buying, there has also been some arbitrage in the cash and futures segment. While FIIs were net buyers to the tune of Rs 1,288 crore, they have also been net sellers in the futures segment to the tune of Rs 465.50 crore, thus indicating cash-future arbitrage. "The balance (Rs 812 crore) can be attributed to actual FII buying," said a fund manager.
According to one senior executive at a Mumbai-based research outfit, uncertainties galore back home on budget, inflation, food prices and delayed monsoon leading to drought-like situation. On the global front, political tensions in Ukraine, North Korea, Iraq and oil prices could anytime surprise the markets adversely.
"This should explain that 25% of today's gain was on account of a wide gap-up. Then on the markets were seen hesitant above 7,600," he added.
"The bull run is intact but there are concerns over delayed monsoon. The end of the quarter also marks the beginning of the corporate results season. Many stocks may, therefore, correct as the results will probably not justify the huge gains," said G Chokalingam at Equinomics Research Advisory.
Brent crude fell to $112.50 a barrel from Friday's $113.30.