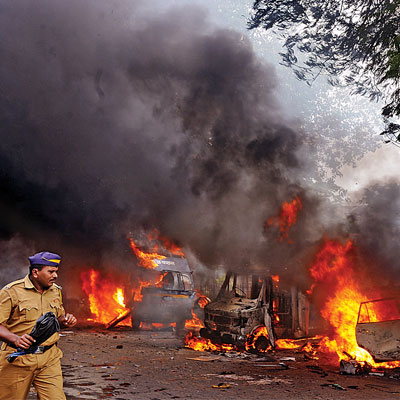 The Bombay high court has said that the Rs2.74 crore demanded from the Raza Academy and Madina Tulum Foundation for the damage caused during the Azad Maidan riot in 2012 was insufficient.
A division bench of judges NH Patil and Anuja Prabhudessai said on Thursday that the amount sought in a notice from the collector was too little for the loss of public property and injuries to persons.
Two youths were killed and 52 people injured when a rally, held on August 11, 2012 to protest alleged atrocities on Muslims in Assam and Myanmar, turned violent. Among those injured were 44 policemen.
Based on a police report about the extent of damage, the Mumbai collector had on Thursday itself sent a notice to the organisers of the rally – Sayed Noori of the Raza Academy and Ahmed Raza Shaikh of Madina Tulum Foundation – seeking recovery of Rs2.74 crore for the damage caused.
"The collector should have conducted his own inquiry on the extent of damage, instead of relying only on the police report," judge Patil remarked. The judges said the collector should meet the victims as well and not just the accused (the organisers).
The court was hearing a public interest litigation (PIL) filed by journalists Sanket Satope and Uday Joshi, through advocate Sanjiv Punalekar, seeking a direction to the state to recover losses for the damage to public and private property due to the riot.
Additional public prosecutor Aruna Kamath-Pai informed the court that the collector had passed the order and sent notice to the organisers for recovery of damages.
The journalists also raised the matter of a total failure of the state government and the police commissioner in initiating measures to recover losses and damages from persons and organisers who had caused a huge loss to public and private property.
They questioned why there was no probe into the role played by additional commissioner of police (south) Krishna Prakash and assistant commissioner of police (retired) Shamsher Khan Pathan, who were on the dais at the rally.
It urged the court to intervene in the matter to restore people's faith in the system, saying it was necessary to restore the faith and confidence of the people that was shattered in an unprecedented situation of a riot and violence of such magnitude.