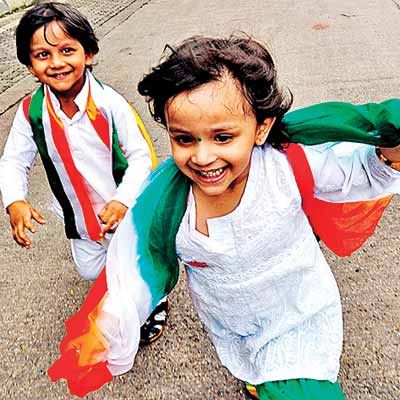 Most of schools in the city that follow the international board mark August 15 on their school calendars and websites as a 'holiday'. Many educationists in the city said it was a wrong practice. They want such schools to mark Independence Day as 'Non Instructional Day'. This would mean that no teaching would take place on that day but children would have to come to the school and take part in the flag-hoisting ceremony and related activities planned for the day.
Most of the schools in the city, especially those that follow the state board, however observe Independence Day as 'Non Instructional Day', and also mention so in their school calendar and website on which they announce the list of holidays.
Raj Aloni, principal, Ramsheth Thakur Public School, Kharghar, said: "It is not correct on the part of a school to mark August 15 as a holiday. It should always be called a 'Non Instructional Day', which means no teaching will take place, but activities connected to Independence Day, including flag hoisting, would be held in the school on that day. New teachers sometimes are not aware of the rule and remain absent on the day. When they are asked the reason for being absent they claim they had gone out of station. Wherever they were, if they attend the flag hoisting ceremony at a school and bring a letter from that school saying they had attended the flag hoisting ceremony, their salary will not get deducted."
Echoing the sentiment, NB Chauhan, deputy director of school education, said there was no need to conduct an inspection to see whether schools celebrate Independence Day or not, as every school is expected to celebrate the occasion. "We believe all schools, including those following the international board, celebrate Independence Day. However, it's wrong to list August 15 as a 'holiday'. Independence Day should instead be marked as 'Non Instructional Day'."
Vandana Lulla, principal, Podar International School, and vice president, South Asia International Baccalaureate Schools Association, said: "I will check why August 15 has been marked as a 'holiday' on our website. We do celebrate Independence Day in a grand manner. Most of the international schools celebrate. It's not right to say that only one section of the schools celebrate. I have seen even some local schools not celebrating Independence Day. Authorities don't conduct inspections to see which schools celebrate and which schools don't."