Studio 62 at Goregaon is known for its innovative tattoo designs but not many know that it is changing the suburb's creative scene, one incredible artist at a time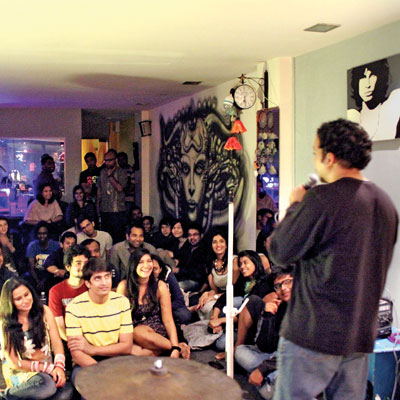 Once upon a time, a group of friends decided to open an art studio and help build a community of artists. Thus Studio 62 was born—the name dedicated to the pin code of its location.
Art attack
Studio 62 has come to be known as a tattoo studio, a recognition they well deserve because of their incredible tattoos. Most of the tattoos, created by artists and co-founders Deepak Poojary and Mathan Raj Chettiyar, are akin to works of art.
"We want to reach out to everybody, to artists all across the city, and provide a space that budding artists can call their own," says Poojary. At present, there are three in-house artists and they are constantly collaborating with painters, graffiti artists, musicians, designers, tattoo artists, writers, etc. They even have someone who paints lamps. The studio also offers customised services, from shoes and bags to interiors.
"It is a creative space for all kinds of art. In fact, we welcome anyone to come and spend the day at the studio, as long as they do something creative here," says Chettiyar, a JJ School of Art graduate. The walls of the studio are decorated with different kinds of art works—from paintings to wall murals. The entire place has a vibrant, colourful vibe to it.
Easy come, easy go place
The founders had friends who could either play an instrument, paint, sing or do stand-up comedy. They got some of them to come together and collaborate or have a jamming session and threw these open to the public. Every event draws a motley bunch of people. As part of their mission to provide a platform to artists, they even conduct events like open mic nights, stand-up comedy sessions, music gigs and so on. You just need to call and tell them you have an event in mind and they will help you organise it. "We have a policy wherein we do not say 'no' to anyone, it is always a 'yes'," says Poojary. If it is a commercial gig, the studio takes a percentage of the profit; if not, they have a pay-what-you-like concept'. This allows people to choose how much they want to pay for entertainment.
Last weekend, the studio played host to an Improv Comedy night; a day later, people were still raving about it. When they have nothing else to do, they collaborate with artists and go about painting walls in the city. They did one in Bandra and more recently, in Kandivali.
Goregaon may be an unexpected location for a creative studio but as Poojary and Chettiyar are finding out, being the only fish in the pond works in their favour. "If we had opened in a space like Bandra, we would be just another studio. We would have been lost," says Chettiyar.