dna reader Jaanvi Chowhan takes a lesson in bachata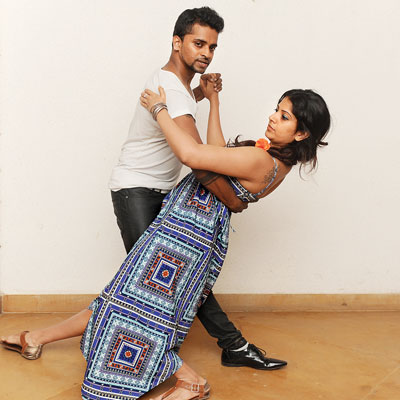 "Dancing is poetry with arms and legs. It has the merit of being human and palpable."— Charles Baudelaire
The sweet, rhythmic, awkward movements of a dancer with two left feet, trying earnestly to present an appealing visual as enthusiastic dancers shimmy their way across the dance floor…. Struggling to make yourself look presentable as you boogey the night away on the weekends? Your drunken stupor might ensure that you care less about how you appear, but it is always nice to get a tip or two from the professionals.
Dreaming dancer
Born to a businessman and housewife, at the tender age of five, an introverted, shy Madan fell in love with dance, an ideal escape route from the necessities of being highly social. "My mother loved dance, so she put me in all kinds of dance classes—from classical and contemporary to Bollywood-oriented dance classes. There was no particular form of dance, it grew into a hobby for me," quips Madan.
As he grew older, Madan ended up graduating with a degree in engineering, "I wanted to be at the top spot at everything I do. I was not at the top when it came to engineering," sighs Madan. Distressed about being unable to impress prospective companies looking to hire young engineering graduates, he decided to take up dancing.
"People thought it was strange that I had given up a career in IT to become a dancer, but followed my heart and went to dance school, where I learnt and taught dancing. I came to Mumbai with barely any money, auditioned for the Dance Premiere League and made it through!" says Madan, who has qualified for various dance championships in different parts of the globe and is setting up his own dance institute, Madmax Academy of Dance. He is the first Indian to be ranked as the fifth best male salsa dancer in the world. "The struggle has been real, from giving up a fancy salary to pursuing my dream career and excelling at it!" said Madan.
Stylish moves
Fashion stylist and dna reader, Lokhandwala-resident Jaanvi Chowhan is not only a great dancer, but is intrigued and fascinated by different dance forms. In Andheri, 'shot bar and café', He Said She Said, has introduced bachata, which originates from the laid back beaches of the Dominican Republic. "Bachata is surprisingly a lot more popular than salsa in the West. The reason being its simplicity, smoothness and sensuousness," says dance instructor Madan, who believes it is an ideal dance form for beginners to experiment with. "During bachata, within two sessions or so it is easy for beginners to sway their hips and do some simple turns and movements that can appear to be fun or flirty, depending on the person's attitude," continues Madan, "It keeps your mind relaxed and does not have to involve intricate dance patterns and excessively fancy moves."
Chowhan who has experimented with dance forms like zumba, salsa, cha-cha, jazz and Bollywood had never heard of bachata before. "It is interesting. Bachata is a kind of dance form that does not require any particular stress on extreme accuracy of the dance moves. It is easy for someone to get into the rhythm and it is ideal for couples or individuals, who are shy of dancing," says Chowhan, as she gracefully sways her hips to and fro.
Want to dance the bachata and forget about the world? Learn a few moves and twirl across the dance floor with your lover, friend or your giggly group of girlfriends. It is an ideal cool down dance form, post a rigorous workout or after a hectic day, slaving away at the office. Head over to He Said She Said and groove to some delightful Caribbean rhythms!