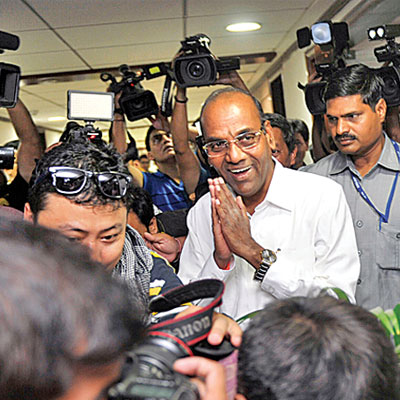 The Shiv Sena, which voiced disgruntlement at the BJP over being given a not-so-important portfolio in the Narendra Modi government on Tuesday, backed off with Anant Geete taking charge of the heavy industries and public enterprises portfolio.
Sena sources said the change of mind had come about after Prime Minister Modi had called up Sena president Uddhav Thackeray to defuse the situation.
Sena was miffed at being given the relatively insignificant portfolio, and Geete, the party's sole cabinet inductee, who was the power minister in the Atal Bihari Vajpayee government, had refused to take charge till late Tuesday evening.
Sena, the second largest party in the NDA with 18 MPs, had sought at least four ministerial berths. The party, which has set its sight on a larger share of seats and the CM's chair in Maharashtra, is wary of the increasing assertion and big-brother attitude of the state BJP, which shed its underdog image in the saffron alliance after Modi's emergence on the national stage.
"I took charge of my ministry today," Geete, a six-term MP, who defeated NCP's water resources minister Sunil Tatkare from Raigad, told dna from New Delhi, adding that this had come after "satisfactory" discussions between Uddhav and Modi.
"When cabinet is expanded, Shiv Sena will get more representation," Geete added. "There are many challenges before the ministry. We are lagging behind in global competition. I will restore the ministry's lost glory," he added.
Sena held three crucial ministerial posts in the Vajpayee dispensation—power, environment and forests, heavy industries, as well as MoS finance and the post of Lok Sabha Speaker, and is now keen on getting more ministerial berths, especially those "connected to people."
Senior Sena leader and former Lok Sabha speaker Manohar Joshi said the party was unhappy with the BJP over issues like inviting Pak Prime Minister Nawaz Sharif for the swearing-in ceremony as well as giving it just one cabinet berth.
Incidentally, heavy industries ministry has seen Maharashtrians—Manohar Joshi, Subodh Mohite (both Sena), Vilasrao Deshmukh (Cong) and Praful Patel (NCP)—at its helm in the recent past.
Sena, which has a broader political and social base as compared to BJP, has always dominated the saffron alliance. However, BJP leaders are trying to corner Sena in the run up to the assembly polls and extract a larger share of winnable seats as well as the chief minister's post. BJP leaders admit that Sena's presence enforces a natural restriction on the socio-political expansion of the party, which has an urban, middle class image.
Sena is also upset at BJP reviving its 'Shatapratishat BJP' (100% BJP) slogan after the five-party Mahayuti's landslide victory in Maharashtra, and attempts by BJP leaders to repeatedly rub it in that Sena had benefited from the Modi wave. Sena leaders point out that they had never in the past, told BJP that it had benefited from late Thackeray Sr's charisma.
In the 2009 assembly polls, Sena contested 169 seats and won just 44, and BJP, which fought 119 seats, won 46. Subsequently, Sena lost its status as the principal opposition party in the two houses of the legislature to its ally.
The Sena-BJP alliance came about in 1989 after an electorally unsuccessful attempt in 1985, and the saffron allies, which had one shot at power in the state, from 1995 to 1999, has stuck together since despite the highs and lows in their relationship.