Amitabh Bachchan will be joined by other stars to showcase Chikankari works by skilled village girls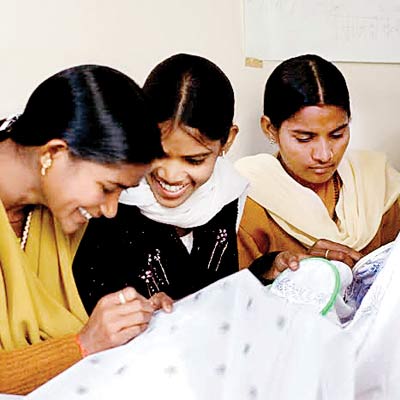 Sarita Pal spent four to five hours daily, over the past two months, embroidering a piece of fabric along with her girl friends in Mijwan village. The material these youngsters have decorated, has been crafted into an attractive dresses that will be worn by top filmstars at a grand fashion event in Mumbai on Tuesday.
The show, 'Men in Mijwan', has been planned by ace designer Manish Malhotra to showcase the Chikankari creations of these village girls. Among the stars who will participate in the show are Amitabh Bachchan, Akshay Kumar, Ranbir Kapoor, Farhan Akhtar and Sidharth Malhotra.
Sarita, a 16-year-old student in class 12 at Kaifi Azmi Girls Inter College in Mijwan, is one of the more than 200 young women from the villages in Azamgarh and adjacent areas in Eastern Uttar Pradesh who have been encouraged by the designer, working through the Mijwan Welfare Society (MWS).
Chikankari is a delicate hand embroidery that is said to have been developed in Lucknow during the Mughal period, with styles inspired by the Persians. ('Chikan' literally means embroidery.)
The girls have learned the skill at MWS, which was established by poet late Kaifi Azmi over a decade ago. Today, this work is carried on by his daughter and actor Shabana Azmi together with her godchild Namrata Goyal. The NGO supports about 225 girls studying in class 9 to 12 and some 400 women.
On Tuesday, the filmstars of different generations will extend their support to the efforts to empower women.
Sarita took up embroidery training after the death of her father a couple of years ago as she had to find a way to sustain herself and her five siblings.
"I was about to leave college to find some work, then the principal encouraged me to take up this work. It took me a few months to learn. Now I am happy that I am able to educate my brothers and sisters," she says. Sarita will miss the fashion event as she is occupied with her board exams.
The girls are determined to go ahead with their graduation, alongside the work. They are clear they will not marry before they are 18, so they don't land up in unnecessary difficulties like some who have married early.
"The girls have their own bank accounts and this gives them a sense of empowerment and pride. With this show, we want people to understand that men should also come forward to work to empower women," says Shabana.
The artfully embroidered materials are turned into lehengas, kalidars, kurtas and pants, even saris, for women, and sherwanis for the men in various tonnes of blue, pink, yellow and grey.
"After embroidery, the materials are sent for bleaching, re-dyeing, and then stitched into garments. What you see on the ramp is the result of 9-10 months of hard work," says Manish. "I get to showcase to the world the best that our country has to offer," he says, underlining the need to rediscover the old arts.