Kiran Rao's son James worked with underprivileged children in the city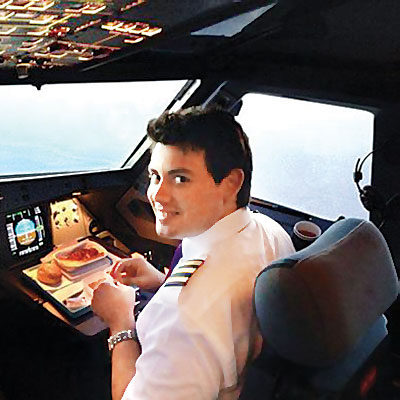 It's a shock that Kiran Rao, executive vice president of aircraft major Airbus and arguably the most powerful Indian in the international aviation industry, is still coming to terms with. The sudden death of his elder son James on April 27, just a few minutes after he had stepped out of his Dubai apartment, is still being investigated though initial reports suggest that it could be because of deep vein thrombosis (DVP).
James, who got his Commercial Pilots License in 2012 from FTE in Spain, joined Safi Airways as a First Officer to fly the Airbus A320. Commercial airline pilots undergo a medical screening every six months to keep their certification and James had not been diagnosed with any medical problem.
"We still don't know the real reason," Kiran Rao told dna over phone from London. "He seemed completely fine when he came home. He spent the night at his apartment and was on his way for an assignment after breakfast when he suddenly collapsed on the road a few metres down the street."
Condolences have been pouring in from the world over, especially India, where the family had made many friends during a short stint. James was barely 4 years old then. Rao's equations with India's past and present aviation czars, including Vijay Mallya, GR Gopinath, Parvez Damania and Naresh Goyal, transcend merely a business relationship — his helping hand was a critical support to their foray into aviation.
Originally from Bangalore, Rao relocated to London after his father CR Rama Rao, a heart surgeon, decided to set up his practice there in the sixties. The connection with India remained strong for the family and even his son James was a frequent visitor during his holidays, sometimes just to work with those who he felt were less privileged.
In fact, during the time he was schooling in France, James organised a group trip to Mumbai to introduce his French classmates to children of the Byramjee Jeejeebhoy Home in Matunga (East). The 12 students stayed at the premises of the foundation and helped upgrade both the classrooms as well as the understanding of the wards there about the world beyond Mumbai.
After a special memorial service on May 19 in London, the family will bring his ashes to India where they plan to set up a Trust in his memory to fund the education of Mumbai's underprivileged children. "That's a dream he always had," said his father who has aptly decided to name it 'Live Your Dream' foundation.