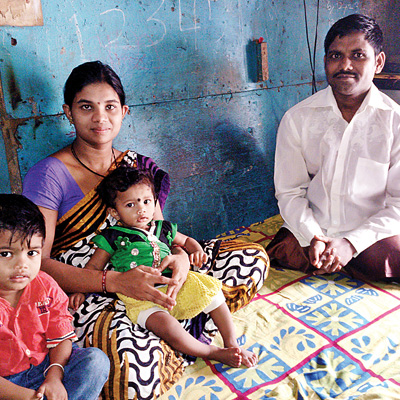 On the eve of 2013 Arun Ghule boarded a private luxury bus in Borivli to travel home to his wife and two kids in Aurangabad. A little after midnight the bus crashed into a trailer carrying steel plates on the Ahmednagar-Pune highway. Ghule and some other travellers were seriously hurt. When he regained consciousness in hospital the next day, he found that his feet had been amputated.
More than 18 months after the accident, the 25-year-old is hoping he will get some compensation that would help him get back on his feet and earn a living.
"Since I lost my legs my mother has had to take up work in people's houses so we can pay the bills," said Ghule, at his rented house in MHB Colony in Borivli (West).
"I've been talking to people to try and get help to pay for prosthesis legs so I start working again. But I haven't received any response yet," he says. Ghule worked as a house painter and would earn about Rs10,000 a month.
His attempt to claim compensation through a petition against the bus company, the driver and the insurance firm in the Jalna sessions court has been foiled as the bus owner refuses to accept the court notice.
"The bus driver tried to overtake the trailer which was carrying steel plates. The plates ripped through the left side of the bus where I was sitting. I dropped unconscious. When I regained consciousness in hospital, I realised that my feet were amputated from the thigh. I learned that some other passengers were also injured," Ghule recalled.
A police complaint was lodged at Shirur police station. "We have filed a claim in the sessions court. But the owner of the bus company will not accept the court notice and so the matter has been delayed," said Sayyed Rehmat Ali, Ghule's advocate.
One of Ghule's children, a boy, is in the nursery, while the other is learning to walk. As he struggles minus his feet, the little ones will be his hope and his joy.